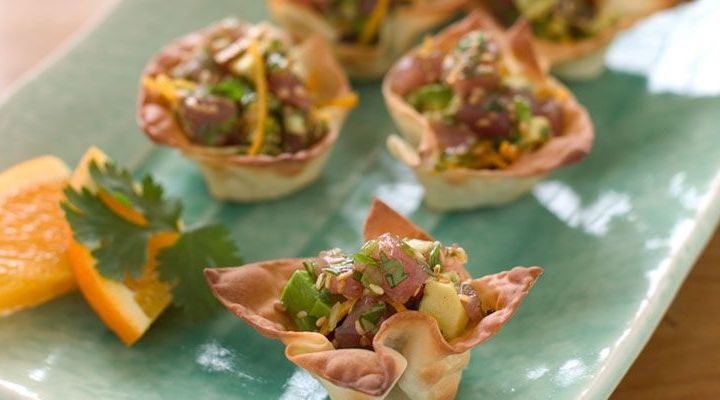 Ahi Tuna Tartare in Toasted Wonton Cups Recipe
Ingredients
Wonton Cups:
24 wonton wrappers
Olive oil spray
Salt for light dusting

Tuna Tartare:
9 ounces sushi-grade tuna, cut into 1/4-inch cubes
2 Tablespoons green onions, green parts only, finely chopped
2 Tablespoons sesame seeds, toasted
2 Tablespoons soy sauce
1 teaspoon sesame oil
1 teaspoon fresh ginger, peeled and grated
1 clove garlic, minced
3/4 teaspoon orange zest
1/2 teaspoon Sriracha (red chili sauce)
2 Tablespoons cilantro, finely chopped
1/2 teaspoon kosher salt
1 avocado, cut into 1/4-inch dice
2 teaspoons lime juice
Cilantro sprigs for garnish
Methods/Steps
Preheat oven to 350°F.

Make Wonton Cups: Spray mini muffin tins with olive oil. Spray (or brush lightly) both sides of each wonton wrapper with olive oil. Place wrappers in mini-muffin tins. Bake until golden, about 6 minutes. (They can burn easily so watch carefully.) Remove cups from pan, sprinkle lightly with salt and let cool on a cooling rack.
Alternatively, if you want triangles: Cut the wonton squares on an angle to make two triangles. Spray with olive oil, or brush lightly, on both sides. Arrange triangles on a baking sheet, and bake until golden, about 6 minutes. Remove from oven and immediately sprinkle lightly with salt before cooling.

Prepare Tuna Tartare: Mix tuna, green onions, sesame seeds, soy sauce, sesame oil, ginger, garlic, orange zest, Sriracha, cilantro and salt together in a medium bowl.

Assemble: Right before ready to serve, add avocado and lime juice to the tuna mixture (Do not add in advance or the texture will be compromised). Gently mix. Place a heaping teaspoon of the tuna tartare in each wonton cup. Garnish with a sprig of cilantro. Place on serving platter and serve immediately.
Recipe created by Parties That Cook®
Serves/Makes
Makes 24 wonton cups.