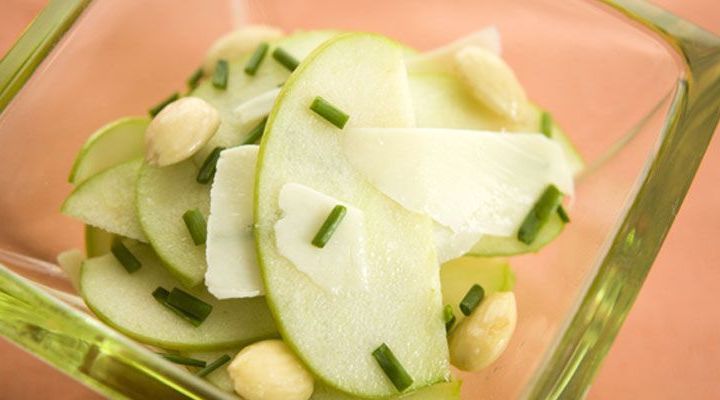 Apple and Chive Salad with Manchego and Almonds Recipe
Ingredients
Almonds:
1 1/4 cups raw almonds with skins on
1 Tablespoon olive oil
1/4 teaspoon sugar
1/4 teaspoon kosher salt

Vinaigrette:
7 medium garlic cloves, peeled
1/4 cup extra virgin olive oil
2 Tablespoons sherry vinegar
1 Tablespoon chopped shallots
1 teaspoon kosher salt
Pinch of freshly ground pepper
Salad:
6 large Granny Smith apples, cored and sliced thinly using a mandolin or v-slicer
Juice from 1 lemon
2 Tablespoons chopped chives
6 ounces Manchego cheese, shaved
Methods/Steps
Preheat oven to 325ºF.
Toast Almonds: Preheat oven to 325°F. Toss almonds with olive oil, sugar and salt. Transfer to a baking sheet and bake for 10-12 minutes until golden. Set aside. Once cool, coarsely chop.
Make Vinaigrette: In a small saucepan, cook the garlic cloves in the olive oil over moderately high heat stirring frequently until lightly golden, about 5 minutes. Remove from heat.
Transfer the garlic and oil to a blender. Add the vinegar and shallot, salt and pepper and blend until smooth.
Assemble Salad: Core the apples and cut into quarters. Using a mandolin or v-slicer, cut into thin slices and toss apples with lemon juice in a bowl. In a large bowl, toss the apples with the chives and vinaigrette. Top with the almonds and Manchego cheese and serve.
Recipe created by Parties That Cook®
Serves/Makes
Serves 8