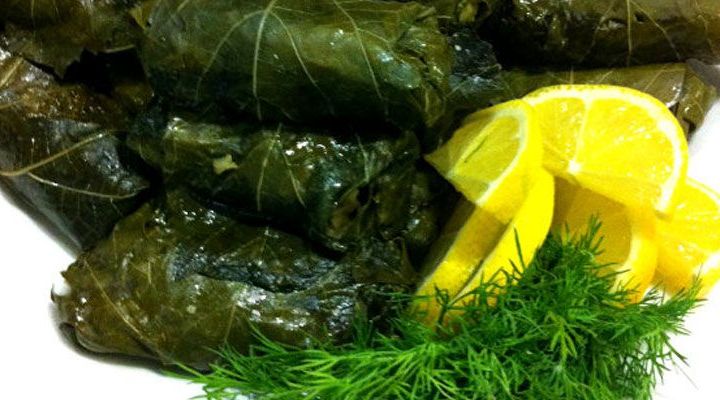 Apricot and Pine Nut Dolmas Recipe
Ingredients
Rice:
3/4 cup basmati rice
1 1/4 cup water
1/2 teaspoon kosher salt
Prepare Steamer:
1 lemon, sliced
Fennel fronds
2-3 dill sprigs
2-3 grape leaves
Steaming rack or pasta pentola
Filling:
1 medium yellow onion, finely minced
3 Tablespoons fresh fennel, finely minced
2 Tablespoons extra virgin olive oil plus more for steaming
1/2 cup chopped green onions, white and green
10 dried apricots, finely diced
3 Tablespoons pine nuts, toasted
1 1/2 cups cooked white rice
1/4 teaspoon cinnamon, ground
1/8 teaspoon freshly ground pepper
1/4 cup water
2 Tablespoons flat leaf parsley, chopped
2 Tablespoons fresh mint, chopped
3 Tablespoons fresh dill
1 lemon, zested and juiced plus lemon wedges for garnish
25-30 large grape leaves (In case some rip. You may need double the amount if your leaves are small)
Methods/Steps
Cook Rice: In a medium saucepan, combine the rice, water and salt over medium-high heat to boil. Lower to a simmer on low heat, covering with a lid. Cook for 15-20 minutes, or until rice is cooked through. Set aside for use in the filling.
Prepare Steamer: Insert a rack or a pasta pentola into a large pot. Fill the pot with enough water so it is just below the pentola or steamer insert and not in the section where the dolmas will lay. Line the bottom of the pot with a sliced lemon, fennel fronds and dill sprigs. Cover the aromatics with 2-3 grape leaves or enough to cover bottom of steamer.
Make Filling: Finely mince the onion and fennel. Heat the olive oil in a large high sided sauté pan over medium heat. Cook the onions and fennel until soft, about 5 minutes. Thinly slice the green onions and add to the pan. Sauté until green onions are soft, about 2 more minutes. Add the diced apricots, toasted pine nuts, cooked rice, cinnamon, salt, and pepper to the pan. Sauté for about a minute. Deglaze the pan with the water and scrape up the brown bits from the bottom of the pan. Sauté until water evaporates then turn off the heat.
Chop Herbs: Finely chop the parsley, mint and dill and stir into the rice filling. Add the juice and zest of one lemon. Taste the rice for seasoning and add more salt and pepper if needed.
Prepare Grape Leaves: Rinse the grape leaves well and pat dry. Lay the leaves flat on the work surface, cut out and discard the hard stems with scissors.
Assemble Dolmas: Place grape leaves, smooth side down, on the work surface. You may need 2 leaves if they are small. Put a heaping 1 ½ tablespoons of rice near the base of the leaf at the stem end. Fold the stem end and sides over the rice and roll up toward the point of the leaf, making a little bundle that resembles a short cigar.
Steam Dolmas: Layer the dolmas into the steamer, seam side down and close together. Sprinkle each layer with a tablespoon of olive oil. Cover pot and bring the water to a boil. Once boiling, turn the heat down to low and simmer slowly for 10 minutes.
Serve: Transfer dolmas to a platter and serve warm or at room temperature, garnished with lemon wedges.
Recipe created by Parties That Cook®
Serves/Makes
Makes 25 Dolmas