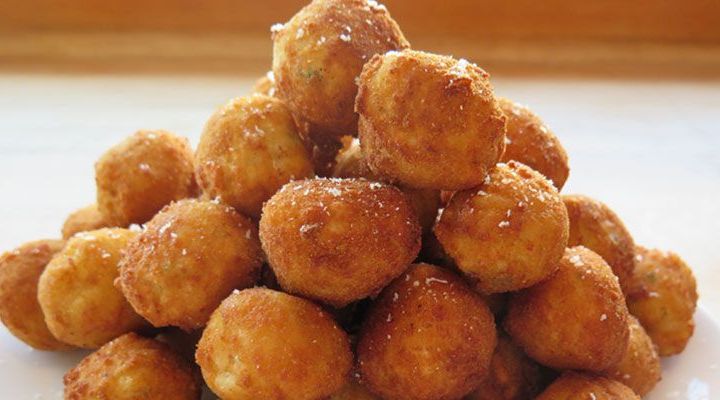 Arancini: Risotto Croquettes Filled with Melted Mozzarella Recipe
Ingredients
Croquettes:
4 cups chicken or vegetable broth, heated
1 Tablespoon olive oil
½ onion, minced
1 cup Vialone Nano rice (or Arborio)
¾ teaspoons kosher salt
¼ cup dry white wine
1 egg yolk
¼ cup freshly grated Parmigiano-Reggiano
½ teaspoon thyme leaves, chopped
½ Tablespoon flat-leaf parsley, chopped
½ teaspoon lemon zest
½ teaspoon lemon juice
Pinch of pepper
4 ounces of smoked mozzarella, cut into ¼-inch cubes
Breading and Frying:
¾ cup flour
4 eggs, beaten
3 cups fresh breadcrumbs or panko
1 teaspoon kosher salt
6 cups canola oil
Methods/Steps
Heat 3 inches of oil to 375ºF in a deep frying pan or wok.
Croquettes: Heat the stock in a small saucepan. Heat olive oil over medium heat in a seperate sauté pan and add onion. Cook until soft, about 3 minutes. Add the rice and salt. Toast, stirring for 1 minute. Add the wine and when it is nearly evaporated, begin adding the hot broth, 1 cup at a time. Stir and add broth as it is absorbed, for 15 minutes, or until the rice is al dente. Remove from heat and fold in the egg yolk, Parmigiano, herbs, lemon zest, lemon juice and pepper. Spread risotto onto a large, oiled baking sheet and let it cool to room temperature in the refrigerator or freezer.
Breading: Put the flour in one pan, the eggs in a second and the breading/panko in a third pan. Season the flour and the breading with ½ teaspoon of salt in each. Season the eggs with a 1 teaspoon of salt.
Frying: Scoop about 1 ½ Tablespoons of the rice mixture into the palm of your hand. Push two fingers into the mixture to make a small opening and put 2 cubes of mozzarella in the hole. Close the hole and finish shaping the croquette by hand. Roll the croquettes in the flour, then the beaten eggs, then in the breadcrumbs. Set on a sheet pan. Deep-fry 5 croquettes at a time until golden brown. Remove with a slotted spoon or spider, and drain on a cooling rack over a sheet pan. Let cool slightly. Serve immediately.
Recipe created by Parties That Cook®
Serves/Makes
Makes 24