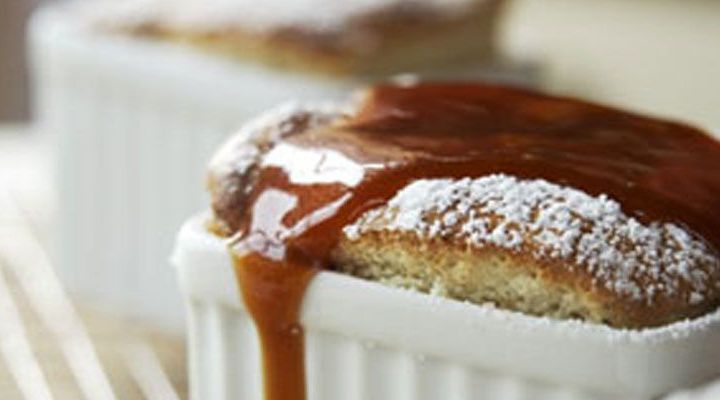 Banana Soufflés with Salted Caramel Sauce Recipe
Ingredients
Ramekins:
2 Tablespoons butter, melted (for buttering ramekins)
Granulated sugar (for dusting)
Soufflé Base:
1 cup whole milk
2 star anise, crushed
1/4 cup light brown sugar, packed
6 large egg yolks (reserve whites for use later in the recipe)
1/4 cup all-purpose flour
1/2 teaspoon kosher salt
2 Tablespoons butter
Soufflé Flavoring:
1 cup mashed ripe bananas (2 large or 3 medium bananas)
2 Tablespoons dark rum
1 Tablespoon vanilla
Whites:
6 large egg whites
1/8 teaspoon crème of tartar
1/4 cup granulated sugar
Salted Caramel Sauce:
1 1/4 cups sugar
1/4 cup water
Pinch of cream of tartar
3/4 cup heavy cream
1 Tablespoon unsalted butter, room temperature
3/4 teaspoon fleur de sel or a good quality sea salt
Powdered sugar for dusting
Methods/Steps
Preheat the oven to 400°F. Adjust rack to the lower third of the oven.
Prepare Ramekins: Using a pastry brush, butter the bottoms of 10 five-ounce individual ramekins and dust/sprinkle with granulated sugar, tapping out the excess.
Make the Soufflé Base: Bring the milk and crushed star anise to a boil over medium heat. Turn off and infuse for 5 minutes. Strain and set aside. Whisk egg yolks in a medium bowl until smooth. Add the brown sugar and beat with electric mixer until pale yellow. Add the flour and salt, then mix until combined. Slowly, fold the warm milk into egg mixture until combined. Pour the egg/milk mixture back into the saucepan and return to medium-low heat, whisking, until it starts to thicken and can coat the back of a spoon, about 5 minutes. Remove from heat and add the butter, stirring until melted and incorporated. Pour into a clean bowl over an ice bath. Whisk constantly until the liquid is room temperature (about 5 minutes).
Combine Soufflé Flavoring: Mash bananas with rum and vanilla. Fold into cooled mixture.
Beat the Whites: Using an electric mixer on high speed, beat the egg whites and cream of tartar until soft peaks form. Gradually add 1/4 cup granulated sugar until stiff peaks form. Using a rubber spatula, fold about one third of the whipped whites into the banana mixture. Fold the remaining whites into the banana mixture. (Do not over fold or the mixture will lose its air!)
Bake: Spoon the mixture into the prepared ramekins almost to the top. Using your finger, make a circle around the circumference of the batter. This will allow the soufflé to rise and create a "top knot". Place the ramekins on a sheet pan and bake for about 20 minutes.
Caramel Sauce: Combine sugar, water and cream of tartar in a small saucepan. DO NOT STIR. Bring to a boil and cook until the caramel browns. When the caramel is medium brown, remove from heat and carefully add cream and simmer. Add the butter and 3/4 teaspoon of fleur de sel and continue stirring until butter melts and salt dissolves.
Additional Tips
Serve: Sprinkle with powdered sugar and serve immediately in the ramekins. Serve with a bit of caramel sauce.
Recipe created by Parties That Cook®
Serves/Makes
Serves 10