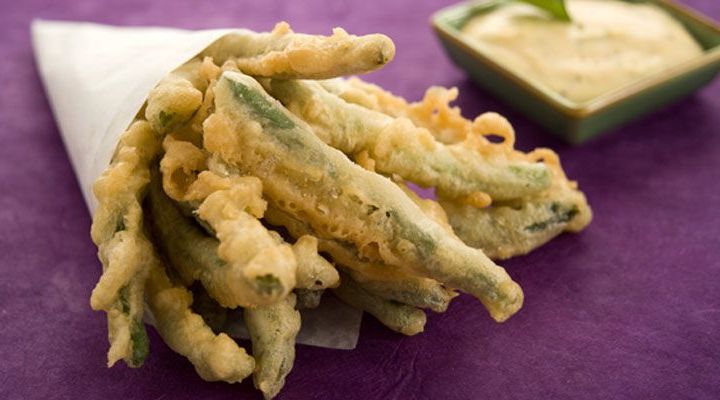 Batter Fried Green Beans With Spicy Ponzu Recipe
Ingredients
Batter Fried Green Beans:
One 12-ounce bottle of very cold ale
1 egg
1 1/2 to 1 3/4 cups all-purpose flour
3/4 cup cornstarch
1 Tablespoon kosher salt
1/4 teaspoon balsamic vinegar
1/4 teaspoon cayenne pepper
4 cups canola oil
1 1/2 pounds green beans, trimmed, rinsed and well-dried
Spicy Ponzu:
1/4 cup soy sauce
1/4 cup mirin (sweet Japanese rice wine)
1/4 cup fresh lemon juice
1 Tablespoon olive oil
1 Tablespoon chopped peeled fresh ginger
1 teaspoon lemon zest
1 teaspoon orange zest
½ teaspoon hot sauce
Methods/Steps
Make Batter: Beat the ale and egg together in a large bowl. Sift in the flour and cornstarch. Add the salt, vinegar and cayenne. Whisk until smooth. The mixture should be the consistency of thin pancake batter.
Fry Green Beans: Heat the canola oil in a large pot to 375°. Batter and test-fry a few beans. The batter should lightly but completely stick to the beans. Adjust with a little more beer or flour and cornstarch as needed. Working with a small handful at a time, dip the green beans into the batter with your hands and carefully drop them in the hot oil. Stir gently with a slotted spoon or spider to separate any beans that may have clumped together. Cook until golden brown, about 2 to 3 minutes. Transfer the beans to a wire rack set over a sheet pan and drain. Sprinkle with more salt as desired. Serve immediately with the ponzu for dipping.

Make Ponzu: Whisk soy sauce, mirin, lemon juice, oil, ginger, lemon and orange zest, and hot sauce in a shallow saucepan. Boil for 1 minute and then strain into a bowl and serve.
Recipe created by Parties That Cook®
Serves/Makes
Serves 30