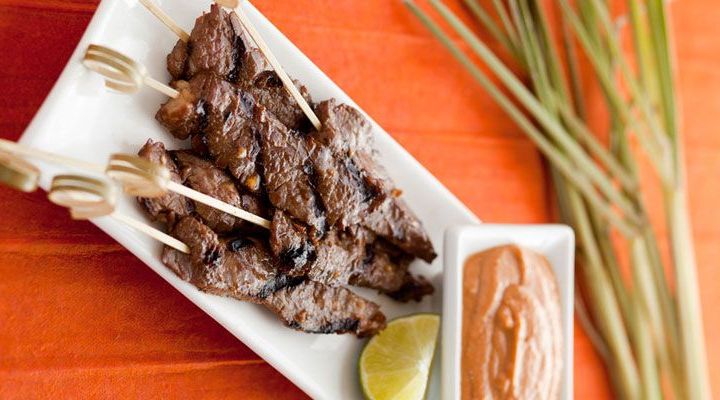 Beef Skewers with Spicy Peanut Sauce Recipe
Ingredients
Beef:
1 1/2 pounds flank steak, trimmed
1/4 cup mirin
1/4 cup soy sauce
1/4 cup Asian sesame oil
2 Tablespoons honey
2 garlic cloves, finely chopped
2 quarter-size slices fresh ginger, finely chopped
24 eight-inch bamboo skewers, soaked in water for 30 minutes.
Canola oil, for the grilling meat
Peanut Sauce:
2 Tablespoons olive oil
1 garlic clove, finely chopped
1/3 cup scallions, finely chopped
1/2 teaspoon ground cumin
1/4 teaspoon pepper
1 medium tomato, finely chopped
1/2 cup coconut milk
1/2 cup crunchy peanut butter
2 teaspoons brown sugar or palm sugar
1 Tablespoon cilantro, chopped
Methods/Steps
Prepare Meat: Cut the flank steak across the grain into 1/4-inch-thick slices. Combine the mirin, soy, sesame oil, honey, garlic and ginger in a small bowl. Toss the meat in the marinade and thread the meat onto 8-inch bamboo skewers and arrange the skewers side by side on a large platter. Let the beef marinate at room temperature for 30 minutes or refrigerate for up to 1 hour.

Make Peanut Sauce: Heat olive oil. Saute garlic, scallions until softened, about 2 minutes. Stir in cumin and black pepper and stir for 1 minute. Add tomato and cook, stirring, 2 minutes. Add coconut milk and brown sugar (if using) and bring to a bare simmer. Remove from heat and stir in peanut butter until combined well. It may look curdled but that is ok. Simmer slowly for 1-2 minutes to thicken and stir in cilantro. Transfer to a bowl and garish with a cilantro sprig.

Grill Meat: Light a grill. Place the grate 8 inches from the heat source. Brush the grate with oil. Arrange the skewers on the grate; grill over high heat, turning once, until nicely browned all over, 5 minutes. Transfer the skewers to a large platter and serve hot with Peanut Sauce.
Recipe created by Parties That Cook®
Serves/Makes
Makes 24 Skewers