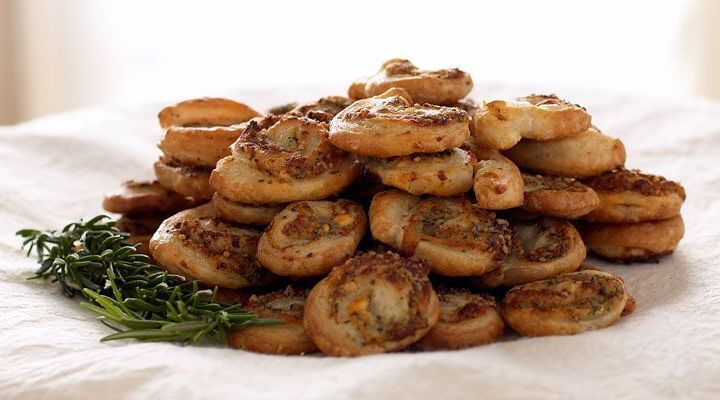 Blue Cheese and Pecan Puff Pastry Spirals Recipe
Ingredients
6 oz. good quality, crumbly blue cheese
1/2 tsp. smoked paprika (Pimenton de la Vera)
1-2 tbsp. heavy cream
1 sheet frozen puff pastry, defrosted
Flour as needed for dusting (about 1/4 a cup)
1/2 cup toasted pecans, finely chopped
2 tbsp. rosemary needles, finely chopped, plus sprigs for garnish
1/2 tsp. kosher salt
1/2 tsp. black pepper
Methods/Steps
Preheat oven to 400°F.
Combine Cheese and Paprika: Line a sheet pan with parchment paper. In a small bowl, mash blue cheese and smoked paprika with a fork. Mix in enough cream to make a spreadable consistency. Set aside.
Prepare Puff Pastry: Spread puff pastry dough on a lightly floured work surface. Sprinkle pastry lightly with flour and roll out to 1/4-inch thickness. Cut pastry in half lengthwise. Spread the cheese to within 1/2-inch of one of the long sides. Sprinkle pecans, rosemary, salt and pepper over the cheese. Repeat with the other pastry piece. Roll each piece of pastry lengthwise. Seal the roll by moistening the end with water and lightly pressing. Place the roll on the prepared sheet pan and place in freezer for 10 minutes. Remove from the frig and cut into 1/4-inch thick slices.
Bake Pastry: Bake until golden and puffed, between 10-15 minutes. Cool 5 minutes, then serve on a platter garnished with rosemary sprigs.
Recipe created by Parties That Cook®
Serves/Makes
Makes about 60 spirals