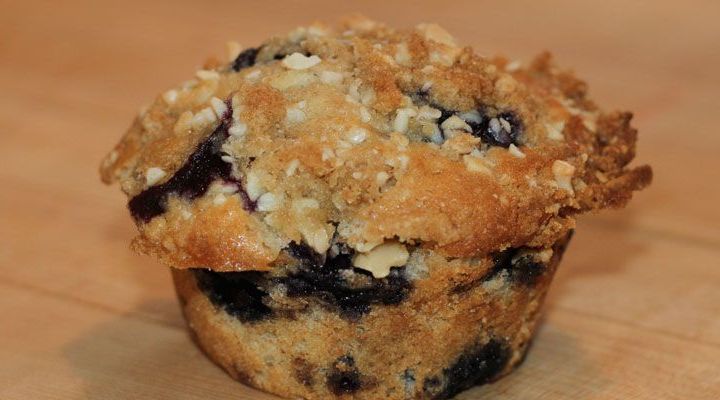 Blueberry Buckle with Aunt Polly's Hot Cream Sauce Recipe
Ingredients
Buckle:
Melted butter and granulated sugar for preparing pan
1/2 cup (1 stick) unsalted butter
2 cups of all-purpose flour
1 1/2 teaspoons baking powder
1/2 teaspoon kosher salt
1/4 cup sugar
1 egg
2 teaspoons pure vanilla extract
3/4 cup milk
5 cups wild or cultivated blueberries, green stems removed

Cinnamon-Oat Topping:
1 teaspoon ground cinnamon
1/2 teaspoon kosher salt
1/4 cup packed light-brown sugar
3/4 cup all-purpose flour
1/2 cup rolled oats
1 1/2 teaspoons vanilla extract
1/2 cup (1 stick) unsalted butter (cut into cubes and chilled)
Hot Cream Sauce:
1 cup heavy cream
3 Tablespoons sugar
1/4 cup (1/2 stick) unsalted butter
1/2 vanilla bean, split and seeds scraped
1/8 teaspoon cinnamon
1/8 teaspoon salt
Methods/Steps
Preheat oven to 350ºF.
Prepare Pan: Brush a 9-inch spring-form pan or 14 ramekins with melted butter then dust it with sugar. Set aside.
Make Buckle: In a medium bowl, sift together the flour, baking powder and salt; set aside. Using a hand mixer, cream the butter and sugar on high speed until light and fluffy, about 3 minutes. Reduce mixer speed to low, then add egg and vanilla. Scrape down the sides and mix until well combined. Alternate adding the reserved flour mixture and the milk to the mixer beginning and ending with the flour mixture. Using a rubber spatula, gently fold in the blueberries. Pour the batter into the prepared cake pan. Set aside while making the topping.
Cinnamon-Oat Topping: In a bowl, combine all the topping ingredients and pinch them together with your finger to with make crumbs. Mix well. Spread topping over the Buckle.
Bake: Bake for 40-50 minutes (or 20-25 minutes if in ramekins), until the fruit is tender when pierced with the tip of a sharp knife and a cake tester comes out batter-free. Remove the cake from the oven; leave in the pan for 10 minutes on a cooling rack. Remove from pan and let cool for 15 minutes before serving. (If using ramekins, serve right in the ramekins and pass the sauce at the table).
Hot Cream Sauce: In a heavy saucepan, add the milk, sugar, and butter. Slit the vanilla bean down the center and scrap out the seeds into the milk mixture. Add the bean, cinnamon and salt. Heat all the ingredients until the cream bubbles around the rim of the pan. Remove the bean.
Serve: Serve a slice of the buckle in a bowl and ladle the cream generously over. Or serve in a ramekin with the cream sauce in a separate bowl. Serve immediately.
Recipe created by Parties That Cook®
Serves/Makes
Serves 12