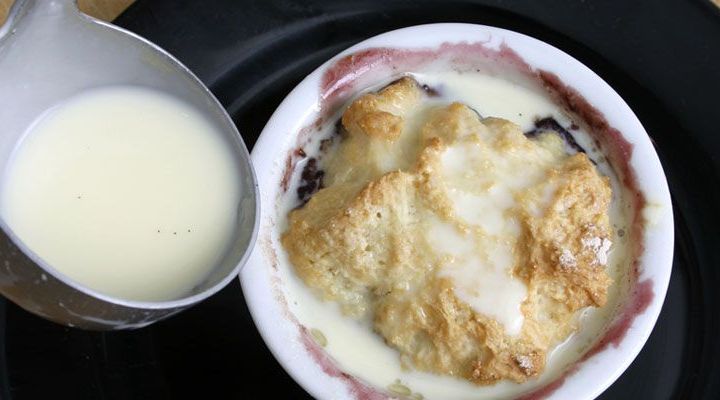 Blueberry Gratin with White Chocolate Chunks Recipe
Ingredients
Blueberry Gratin:
4 Tablespoons butter (half a stick), melted
3 Tablespoons granulated sugar
4 cups milk
2 teaspoons pure vanilla extract
4 large eggs
1 cup sugar
1 1/4 pound brioche loaf, crusts removed, cut into 1/2 – inch pieces, dried out in oven
3 1/2 cups blueberries
4 ounces white chocolate pieces (optional)
1 1/2 teaspoons unsalted butter, softened

Hot Cream Sauce:
1 cup heavy cream
3 Tablespoons sugar
1/4 cup (1/2 stick) unsalted butter
1/2 vanilla bean, split and seeds scraped or 1 teaspoon vanilla extract
1/8 teaspoon kosher salt
Mint sprigs and powdered sugar for garnish
Methods/Steps
Preheat oven to 375°F.
Prepare Ramekins: Butter 14 small ramekins or a large gratin dish. Dust ramekins with granulated sugar. Reserve remaining butter to brush on gratin in next step.
Gratin: In a large bowl, whisk together the milk, vanilla, eggs and sugar. Add the bread, submerge it in the milk/egg mixture and let stand for 5 minutes. Fold in blueberries and white chocolate pieces to the soaked bread mixture. Transfer to the prepared ramekins. Brush the top with melted butter. If using ramekins, bake for 20 minutes, or until the top is browned and crisp (and if using a gratin pan, bake for about 35 minutes). Let stand for 10 minutes before serving.
Hot Cream Sauce: In a heavy saucepan, add the cream, sugar, and butter. Slit the vanilla bean down the center and scrape out the seeds into the milk mixture. Add the bean and salt. Heat all the ingredients until the cream bubbles around the rim of the pan. Remove the bean.
Additional Tips
To serve: Remove the gratin from the ramekin and put face up in a bowl. Add a generous spoonful of the hot cream sauce. Sprinkle with powdered sugar, garnish with mint and serve.
Recipe created by Parties That Cook®
Serves/Makes
Serves 14