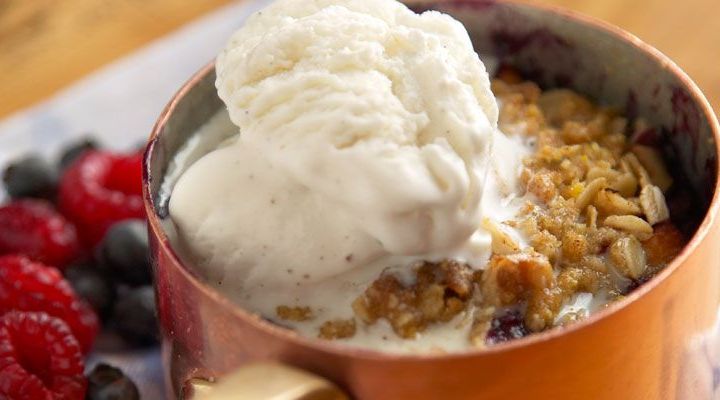 Blueberry, Raspberry and Peach Dulce De Leche Crisp Recipe
Ingredients
Dulce de Leche:
2 14-ounce cans sweetened condensed milk
Fruit Filling:
Butter to prepare pan
6 large peaches, peeled, pitted and cut into 1/2-inch cubes (can substitute nectarines)
1 pint blueberries
1 pint raspberries
1 can dulce de leche (see above)
1/2 teaspoon ground cinnamon
1/4 teaspoon nutmeg
2 Tablespoons lemon juice
2 teaspoons vanilla
2 Tablespoons flour
1/2 teaspoon kosher salt
Pecan-Oat Topping:
1/3 cup all-purpose flour
1/3 cup fine cornmeal
3/4 cup packed light brown sugar
3/4 cup old-fashioned rolled oats (not instant)
3/4 cup (3 ounces) chopped pecans
1/4 teaspoon kosher salt
1/2 teaspoon ground cinnamon
1/2 cup (1 stick) unsalted butter, at room temperature, cut up into 1/2-inch pieces
2 teaspoons vanilla extract
Methods/Steps
Position rack in the center of the oven and preheat oven to 350°F.
Dulce De Leche: Immerse the unopened cans of sweetened condensed milk in a pot of water. Bring to a boil and cook for 2 hours, replenishing the water as necessary. Remove from heat and let cool slightly in the can. Open the cans and you will have fresh dulce de leche. (One can will be used in the filling and one for a garnish.)
Prepare Pans: Butter a large oval gratin pan or 9x13 inch baking pan or 16 ramekins.
Fruit: In a large mixing bowl, combine all the peaches, blueberries, raspberries, dulce de leche, cinnamon, nutmeg, lemon juice, vanilla, flour and salt. Pour into the prepared pan.
Pecan Topping: In another bowl, combine all the topping ingredients and pinch them together with your fingers to with make crumbs. Do not overwork the topping. Sprinkle the topping over fruit.
Bake: Bake for 35-40 minutes (or if using ramekins, for 20-25 minutes), or until the fruit is tender when pierced with the tip of a sharp knife, the filling is bubbling, and the crumbs are golden brown. Cool on a wire rack for about 20 minutes to let the fruit set.
Additional Tips
To serve: Spoon a portion of baked fruit crisp into a wide bowl. Garnish with a dollop of dulce de leche. Serve immediately.
Recipe created by Parties That Cook®
Serves/Makes
Serves 16