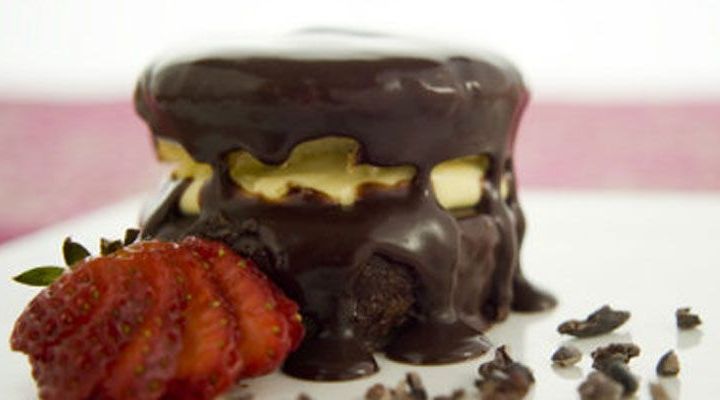 Boston Cream Pie Trifle with Strawberries and Chocolate Ganache Recipe
Ingredients
For Sheet Pan:
Baking Spray
Parchment Paper
Cake:
3 large egg yolks
1/3 cup whole milk
1 teaspoon pure vanilla extract
2 Tablespoons heavy cream
3/4 stick (6 Tablespoons) unsalted butter, softened
1 cup + 2 Tablespoons cake flour
3/4 cup sugar
2 teaspoons baking powder
1/4 teaspoon kosher salt
12 3oz cups and mini spoons
Custard:
1/3 cups whole milk
1 Tablespoon Cornstarch
1 1/4 cups heavy whipping cream
1/2 teaspoon vanilla extract
1/3 cup sugar
Strawberries:
1/2 pint strawberries
1/2 Tablespoon sugar
Chocolate Ganache:
4 ounces bittersweet chocolate, chopped
1/2 cup heavy cream
1/2 teaspoon kosher salt
Methods/Steps
Preheat the oven to 375°.

Prepare Sheet Pans: Generously spray a half sheet pan with baking spray. Line pan(s) with a piece of parchment paper. Spray parchment paper with baking spray as well.
Make Cake Batter: In a medium bowl, whisk the egg yolks, milk, vanilla and cream and set aside. In a large bowl using a hand mixer, or stand mixer, beat the butter with the flour, sugar, baking powder and salt at low speed until smooth. Slowly beat in the egg yolk mixture. Spread the batter onto prepared sheet pan(s) and bake for 15- 20 minutes or until golden or until a toothpick inserted into middle comes out clean. Set cake on wire rack for 5 minutes to cool then invert cake from sheet pan onto the wire rack to cool completely. Once cool, cut or tear the cake into tiny ½ inch pieces.
Make Custard: Combine milk and cornstarch in medium bowl; whisk until smooth. Whisk in the egg yolks, beating until smooth. Set aside. Combine the cream, vanilla and sugar in a saucepan and carefully bring to a boil. When the mixture just boils, whisk a ladleful into the egg mixture to temper it, then whisk this back into the cream mixture. Cook, stirring constantly, until the mixture is thick enough to coat the back of a spoon, about 160º on a thermometer. Strain the custard into a clean bowl over an ice bath. Stir until cool or refrigerate to chill.
Macerate Strawberries: Hull and chop the strawberries into ¼ inch dice. Place them in a bowl and stir in the sugar. Let strawberries sit for 5 minutes.
Make Ganache: Put the chopped chocolate into a bowl. Heat up cream in a small pan until just bubbling. Whisk hot cream into the chocolate and add the salt. Stir frequently to help cool.
Assemble Mini Trifles: Place a tablespoon of custard into each cup. Follow with 1-2 pieces of cake, a tablespoon of ganache and a teaspoon of the strawberries. Repeat with another layer. Serve immediately.
Recipe created by Parties That Cook®
Serves/Makes
Serves 12