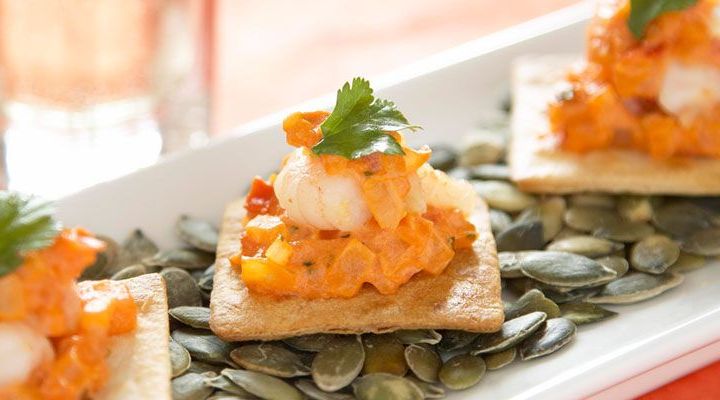 Brioche Tartines Topped with Dungenes Crab and Shrimp Salad Recipe
Ingredients
Brioche:
8 slices firm brioche, about ½ pound
4 Tablespoons (2 ounces) butter
¼ teaspoon cayenne
¼ teaspoon kosher salt
Crab and Shrimp Salad:
5 ounces medium shrimp, tails removed
6 ounces jumbo lump crab meat, preferably Dungeness
2 Tablespoons minced shallot
2 Tablespoons chopped fresh dill leaves
¼ cup mayonnaise
¼ cup sour cream
1 teaspoon prepared horseradish
½ teaspoon lemon zest
1 Tablespoon fresh lemon juice
½ teaspoon kosher salt
Methods/Steps
Preheat oven to 350ºF.
Prepare Toasts: Stack bread slices and cut off crusts. Quarter slices to make 1 1/2-inch squares, 4 squares per slice of bread. Arrange on a baking sheet.
In a small saucepan, melt butter and stir in cayenne and salt. Brush tops of squares with butter mixture and bake until pale golden, about 12 minutes. Cool toasts on a rack. (Toasts may be made 1 day ahead and kept in an airtight container at room temperature.)
Prep Shrimp: Peel and devein shrimp. Heat a medium pot of salted water over high heat. When the water comes to a boil, add the shrimp, cover the pot and turn off the heat. Let stand for about 1 minute, or just until the shrimp are opaque and cooked through. Remove the shrimp from the pot and cut the shrimp into four pieces and place in a medium bowl.
Make Crab and Shrimp Salad: Pick over crabmeat to remove any bits of shell and cartilage. Add the crab to the shrimp along with the shallot, dill, mayonnaise, sour cream, horseradish, lemon zest/juice and salt. Stir together very gently.
Serve: Mound about a spoonful of the salad on each toast and garnish with dill. Transfer to a serving platter and serve immediately.
Recipe adapted by Parties That Cook® from Gourmet Magazine, December 1998.
Serves/Makes
Makes 24 Tartines