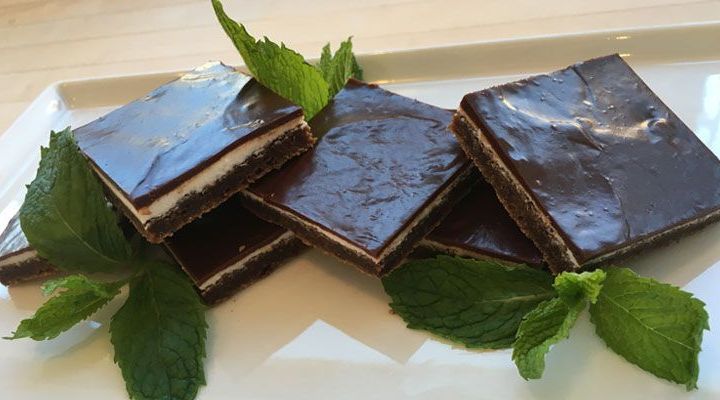 Brownies Layered with Mint Topping and Chocolate Ganache Recipe
Ingredients
Brownies:
4 ounces dark chocolate pieces
5 ounces butter (plus extra for the pan)
2 cups brown sugar
3 eggs
1 teaspoon vanilla extract
1¼ cup AP flour
½ teaspoon baking soda
½ teaspoon kosher salt
Mint Topping:
2 cups powdered sugar, sifted
3 ounces butter, softened
1-2 Tablespoons milk
1 teaspoon peppermint extract
Chocolate Ganache:
4 ounces dark chocolate pieces
3 ounces heavy cream
Methods/Steps
Make Brownies: Heat the oven to 350°F. Butter the ½ sheet pan, line with parchment and butter again, and set aside. On a double boiler, melt the chocolate and butter together in a mixing bowl. Once melted, pull off the heat and set aside to cool. Whisk in the sugar, then the eggs and vanilla. Add the flour, baking soda and salt. Carefully spread it on the buttered ½ sheet pan, making sure it is even. Bake for 12-15 minutes. Loosen edges and flip brownies onto the back of another sheet pan and gently remove parchment. Put cake in fridge to set-up and cool completely.
Make the Topping: In a mixing bowl, add the sugar, butter, milk and extract. Start slowly using a hand mixer, beat all the ingredients together until it is smooth and fluffy. Spread over the cooled brownies with an offset spatula. Put the sheet pan back into the fridge to cool and set the mint-topping layer.
Make the Ganache: In a small sauce pan, heat the cream. Add the chocolate to a mixing bowl, and once the cream boils-pour over the chocolate. Let sit until the chocolate has melted. Stir to emulsify. Cool slightly, then drizzle over the brownies and spread into a thin layer with an offset spatula. Put the sheet pan back into the fridge to cool completely. Cut the brownies into squares or rectangles with a wet, clean knife, wiping the knife off between cuts, platter and serve.
Recipe adapted by Parties That Cook® from Chef Mike Chapter, LLC
Serves/Makes
Makes 24 squares or 48 small bites (cut into small rectangles like ¾" x 1 ½")