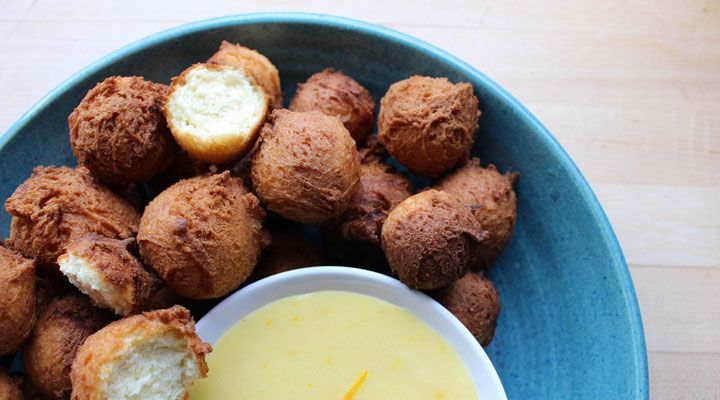 Buttermilk Donut Holes with Lemon Curd
Donut Holes
1 ounce butter, melted
⅓ cup sugar
1 egg
⅓ cup buttermilk
1 teaspoon vanilla extract
1¾ cups cake flour
1 teaspoon baking powder
½ teaspoon baking soda
½ teaspoon kosher salt
Fryer oil
Make the Donuts Dough: In a mixing bowl, add the butter, sugar, eggs, buttermilk and vanilla. Beat together, starting on low speed, with a hand mixer. In a separate bowl, whisk together the flour, baking powder, baking soda and salt, then add to the wet ingredients. Slowly beat together with the hand mixer until completely combined.

Shape and Fry the Donuts: In a heavy bottom pot, add about 4 inches of fryer oil. Heat the oil to 375°F. Use small ice cream scoop or spoon to shape 2 Tablespoon size donut holes and drop directly into hot oil.

Set aside a sheet pan lined with paper towel and a spider or slotted spoon. Do not overcrowd the pot. Flip the donuts after about 2 minutes and let them fry for 1-2 minutes on the other side. Remove from the oil with the spider onto the paper towels.
Lemon Curd
2 eggs
½ cup sugar
1 teaspoon lemon zest
⅓ cup lemon juice
Pinch of kosher salt
2 ounces butter, cut into pieces
Make the Curd: Fill a sauce pot that can hold a heat proof bowl with 3-4 inches of water to make a double boiler. Heat the water to a simmer. In a mixing bowl, beat the eggs and sugar together until light and fluffy with a hand mixer. Add the lemon zest, juice and salt. Mix. Place the bowl on top of the simmering water, whisk with a hand whisk the entire time. Cook on the double boiler until the mixture has thickened, almost custard like. Remove the bowl from the simmering water, and whisk in the butter piece by piece. Cover the lemon curd with plastic wrap and chill over an ice bath or in a refrigerator to cool for 10 minutes. Transfer to a serving bowl.
Serve the Donuts: Place the donuts on a platter with the lemon curd. Serve.
Recipe created by Parties That Cook®
Serves/Makes
Serves 20