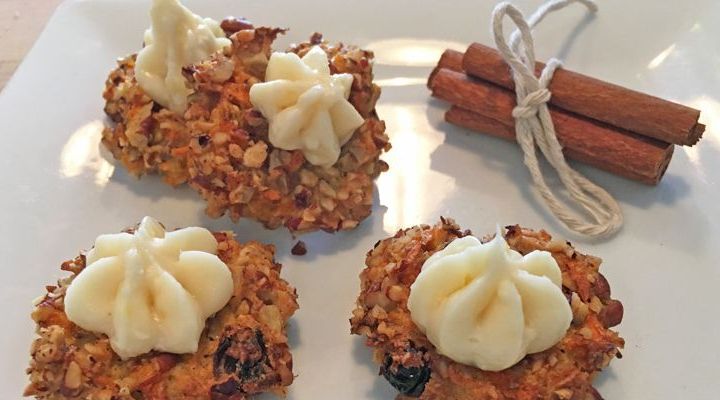 Carrot-Cake Thumbprint Cookies with Cream Cheese Frosting Recipe
Ingredients
Cookies:
4 ounces of butter, melted
⅓ cup sugar
⅓ cup brown sugar
1 egg
1 cup flour
½ teaspoon cinnamon
½ teaspoon ginger
1 teaspoon kosher salt
2 cups grated carrots
¾ cup oats
¼ cup raisins
1 ½ cup pecans, finely chopped
Cream Cheese Frosting:
3 ounces of cream cheese, softened
3 ounces butter, softened
⅓ cup powdered sugar, sifted
½ teaspoon kosher salt
½ teaspoon vanilla
1 teaspoon lemon zest
Methods/Steps
Make the Cookies: Preheat the oven to 350®F. Line sheet pans with parchment paper, and set aside. In a mixing bowl, whisk together the butter, sugars and egg until it is smooth. Add the flour, cinnamon, ginger and salt. Whisk together. Fold in the carrots, oats and raisins. Place the chopped pecans in a shallow dish. Scoop the dough with a small ice cream scoop, and roll in the chopped pecans. Place on the sheet pan, about an inch or so apart. Continue until all the cookies are scooped. Using your thumb, press into each cookie. Bake for about 15-20 minutes or until golden brown. Cool on a wire rack.
Make the Frosting: In a mixing bowl, add the cream cheese and powdered sugar. With a hand mixer, start slowly until the sugar is incorporated, turn to high speed and mix until fluffy. Add the salt, vanilla and lemon zest. Mix to incorporate. With a rubber spatula, put the icing into a piping bag with a star tip. Fill the center of the cookies with the frosting, and serve.
Recipe adapted by Parties That Cook® from Chef Mike Chapter, LLC
Serves/Makes
Makes 24