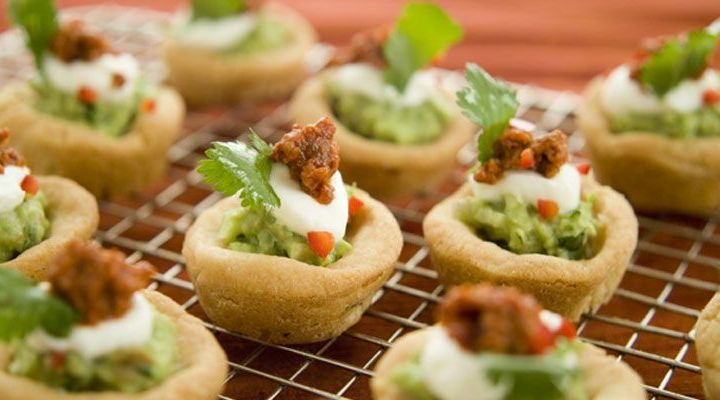 Chalupas with Smashed Avocado, Chorizo, and Lime Sour Cream Recipe
Ingredients
Crust:
Vegetable spray, for greasing pans
1 cup masa harina
1 cup all-purpose flour
2 teaspoons kosher salt
6 Tablespoons butter, chilled and cut into pieces
6 Tablespoons vegetable shortening
1/2 cup + 1 Tablespoon warm water
Mini Muffin Tins
Filling:
6 ounces fresh Mexican chorizo sausage, casing removed
1 large shallot, finely diced
4 Tablespoons cilantro, chopped
1 large red jalapeno, minced
2 large avocados, halved and pitted
2 Tablespoons fresh lime juice
1 teaspoon kosher salt
Lime Sour Cream:
1/2 cup sour cream
2 teaspoons fresh lime juice
1/2 teaspoon kosher salt
1 red jalapeno, minced
48 cilantro leaves
Methods/Steps
Preheat the oven to 350ºF.
Prepare Pans: Using the vegetable spray, lightly grease the insides of 2 24-cup mini muffin pans to make 48.
Make Crust: Combine the masa, flour, and salt in the bowl of a food processor. Pulse the mixture to combine. Add the butter and shortening and pulse again just until the mixture forms a coarse meal. Add warm water and process until moist clumps form, adding more water by the tablespoon if the mixture is dry. Transfer the dough to a flour-dusted work surface and divide it into quarters. Roll each quarter into a rope and cut the ropes into 12 pieces to yield 48 1/2-inch pieces (the size of a marble). Using your fingers, press each piece into a muffin cup, keeping the top edge of the dough inside the cup. Continue until all the cups are full. Use any extra dough to fill holes.
Bake Crust: Bake the cups until dry to the touch, and lightly browned, about 20 minutes. Remove them from the muffin tins and cool the cups on racks.
Cook Chorizo: Heat a medium sauté pan over medium heat. Add the chorizo, crumble with a wooden spoon and cook, stirring, until cooked through, 4-5 minutes. Transfer to a paper towel to drain. Chop into bits if necessary.
Make Filling: Finely dice the shallot, cilantro and red jalapeno. Place into a medium bowl.
Make Filling Continued: Cut the avocado in half and remove the pit. Use a large spoon to scoop out the avocado flesh. Add the avocado to the bowl and gently mash with a fork. Stir the mixture well and add in the lime juice and salt. Taste and re-season with salt and lime juice if needed.
Prepare Garnishes: Mix the sour cream, lime juice and salt in a small bowl. Set aside. Finely mince the jalapeno and pick cilantro leaves.
Assemble Chalupas: Spoon some of the avocado mixture into each of the cooled cups and top with a small dollop of sour cream then pieces of chorizo. Top with a sprig of cilantro and remaining jalapeno. Serve right away.
Recipe adapted by Parties That Cook® from Tori Ritchie in Bon Appetit
Serves/Makes
Makes 48