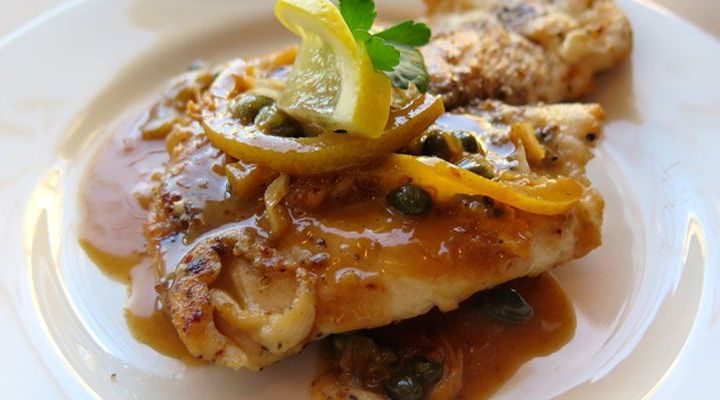 Chicken Piccata with Capers and Parsley Recipe
Ingredients
Chicken:
3 pounds chicken breasts, boneless and skinless, butterflied
1 teaspoon kosher salt
¼ teaspoon freshly ground black pepper
½ cup all-purpose flour
2-3 Tablespoons olive oil
Piccata Sauce:
1 small shallot, minced
¼ cup white wine
1½ cups chicken stock
Juice from ½ lemon
½ lemon cut in slices, seeds removed
¼ cup rinsed and drained small capers
3 Tablespoons unsalted butter
¼ cup chopped parsley
Parsley leaves for garnish
Methods/Steps
Butterfly the Chicken: This step has been done by your chef. Wrap meat pounder in plastic wrap. Butterfly chicken breast.
Prepare the Chicken: Use a meat pounder to make the chicken uniform in size, ¼" thick. Cut into 8 equal pieces. Season with salt and pepper and set aside. Put the flour into a pie tin or shallow baking dish and add the salt and pepper. Dip one cutlet at a time into the flour mixture and shake to remove excess flour. Heat a large heavy-bottomed skillet over medium-high heat until hot, about 2 minutes; add 2 Tablespoons of oil. When the oil is shimmering, lay half the chicken pieces in the skillet. Sauté cutlets, without moving them, until lightly browned on the first side, about 3-5 minutes. Turn the cutlets and cook until the second side is lightly browned, about 3 minutes longer. Remove chicken from pan and rest on baking sheet lined with paper towels. Add the remaining oil, wait for oil to shimmer, and add remaining cutlets and repeat process. Reserve the skillet.
Make the Piccata Sauce: Add the shallots to the chicken skillet and return to medium heat, sauté until fragrant, about 30 seconds. Add wine, reduce to till almost dry. Add stock, lemon juice and lemon slices and increase heat to high. Scrape skillet bottom with a wooden spoon or spatula to loosen browned bits. Simmer until the liquid reduces to about half, about 5-10 minutes. Add capers and remove pan from the heat and swirl in the butter until melted and thickens the sauce; swirl in the chopped parsley.
Serve: Spoon sauce over the chicken, and garnish with parsley sprigs. Serve immediately.
Recipe created by Parties That Cook®
Serves/Makes
Serves 8