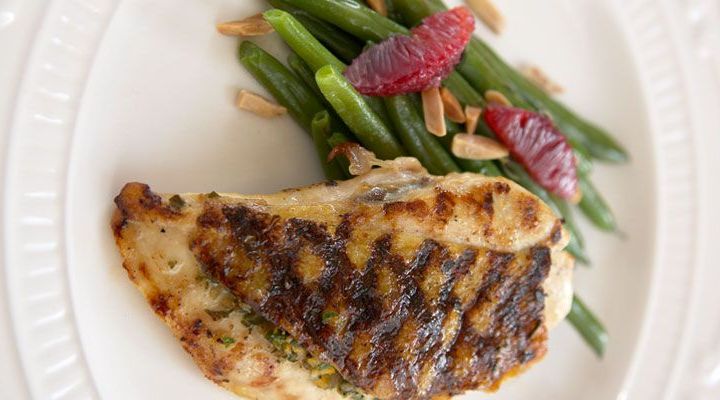 Chicken Cooked under a Brick with Preserved Lemons, Garlic, and Herbs Recipe
Ingredients
Brine:
2 quarts water
1/2 cup sugar
1/2 cup kosher salt
1 bay leaf
2 garlic cloves, smashed
1 teaspoon black peppercorn, coarsely smashed
8 6-ounce boneless chicken half breasts, skin on
Stuffing:
3 small garlic cloves, minced
3 Tablespoons olive oil, plus additional for brushing chicken
2 small preserved lemons, inner pulp removed, chopped into small cubes (can substitute 1T lemon zest)
1/2 cup Picholine or Lucque olives, pitted and chopped
2 Tablespoons brined capers, rinsed, drained and chopped
2 small shallots, chopped
1/4 cup parsley, chopped
1 Tablespoon thyme leaves, chopped
1 Tablespoon oregano or marjoram leaves, chopped
1/4 teaspoon salt
1/8 teaspoon of pepper
Garnish:
Sprigs of parsley
Lemons
Methods/Steps
Preheat the oven to 425°F.
Brine: Mix water, sugar, salt, bay leaf, garlic and black peppercorns. Immerse the chicken in the brine and refrigerate for 1/2 hour-1 hour. Remove from brine and pat dry.
Stuffing: In a small bowl, combine minced garlic, olive oil, chopped preserved lemons (with inner pulp removed), olives, capers, shallots, herbs, salt and pepper. Mix well and taste to adjust seasoning. Loosen skin from chicken breasts with your fingers and stuff a tablespoon or so of the mixture evenly underneath skin. Press gently on the skin to spread filling. Brush chicken breast with olive oil and season with salt and pepper.
Sear then Roast: Preheat an outdoor grill or an indoor, ridged grill (pan) until hot. Brush the grill lightly with canola oil. Place several stuffed chicken breasts—skin side down—on the grill. Place a baking sheet on top of the chickens with the rim facing up. Then place a brick on top of the baking sheet and let the chicken cook until the skin is dark golden brown, about 3-5 minutes. Carefully remove the brick and baking sheet and transfer the breasts to a clean baking sheet, browned side up (no need to brown on the other side as it will finish cooking in the oven). Finish searing the remaining chicken breasts in the same manner.
Serve: Remove from oven, cover loosely with foil and let rest for 5 minutes. Serve chicken garnished with a parsley sprig.
Recipe created by Parties That Cook®
Serves/Makes
Serves 8