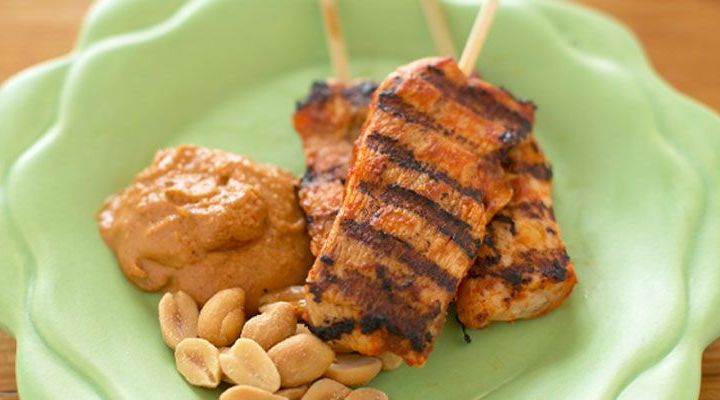 Chicken Skewers with Spicy Peanut Sauce Recipe
Ingredients
Chicken:
24 wooden skewers (6"—10" long)
2 pounds boneless, skinless chicken breast
1/4 cup unsweetened coconut milk (shake well before opening)
2 Tablespoons palm sugar (can substitute dark brown sugar)
1 Tablespoon curry powder
1 Tablespoon freshly squeezed lime juice
1 Tablespoon Thai fish sauce
Peanut Sauce:
1 cup unsweetened coconut milk (shake well before opening)
1 Tablespoon red curry paste
1 Tablespoon Thai fish sauce
1/4 cup palm sugar (can substitute dark brown sugar)
1 Tablespoon + 2 teaspoons tamarind paste
1/4 cup natural-style peanut butter
1 teaspoon sweet paprika
1 garlic clove, peeled and finely minced
Cilantro for garnish
Methods/Steps
Prepare Chicken: Soak skewers in water for at least 30 min. Cut the chicken breasts into thin strips: 1" wide x 2" long x 1/2" thick.
Marinate Chicken: Combine coconut milk, palm/brown sugar, curry powder, lime juice and fish sauce in a shallow bowl or instant marinator. Add the chicken strips, toss to coat and marinate for 4 hours or overnight - stirring occasionally.
Make Peanut Sauce: Measuring carefully, combine coconut milk, red curry paste, fish sauce, palm sugar, tamarind, peanut butter, paprika and garlic in a small saucepan and simmer, stirring occasionally, for 8-10 minutes until thickened.
Assemble Skewers: Meanwhile, thread two or three pieces of the chicken onto each skewer so that the tip is covered with the chicken meat and it lays flat (do not bunch the pieces together). Wrap the remaining exposed skewer in foil. Broil under high heat 1-2 inches from heating element for 2 minutes on each side. Or, use an outdoor grill and grill until cooked through, about 2 minutes a side. Serve on a platter with a dish of the peanut sauce for dipping, garnished with cilantro.
Recipe created by Parties That Cook®
Serves/Makes
Makes 24 Chicken Skewers