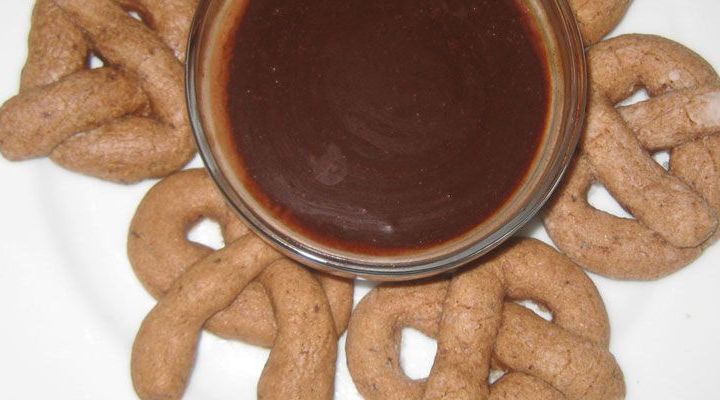 Chocolate Pretzel Cookies with Mexican Hot Chocolate Dipping Sauce Recipe
Ingredients
Chocolate Pretzels:
Nonstick baking spray
2 ounces bittersweet chocolate
1/2 cup unsalted butter, softened
2/3 cup sugar
1 egg
2 teaspoons vanilla extract
1 3/4 cups AP flour
1/2 teaspoon kosher salt

Coarse sugar, for garnish
Powdered sugar, for rolling

Mexican Hot Chocolate Dipping Sauce (Makes 2 cups):
1 cup heavy cream
1/4 cup milk
2 ounces bittersweet chocolate, finely chopped
3 ounces Mexican chocolate, finely chopped
1/2 cup sugar
1 teaspoon vanilla extract
1/8 teaspoon cayenne
1/2 teaspoon kosher salt

Garnish:
Toasted coconut
Powdered sugar
Mint sprigs
Methods/Steps
Preheat oven to 400°F.

Prepare Pans: Spray sheet pans with nonstick baking spray.

Melt Chocolate: Coarsely chop the chocolate and place into a stainless steel or oven proof bowl. Place bowl into the oven to melt for 1-2 minutes, stirring frequently. Alternately, place chocolate in a double boiler and gently melt, stirring frequently. Let chocolate cool. For a helpful video on how to melt chocolate, go here!

Creaming: In a large bowl and using a hand or stand mixer, cream butter and sugar until light and fluffy. Add the egg, then the cooled, melted chocolate, then vanilla; mix well.

Mix Dry Ingredients: Place flour and salt in a separate bowl and quickly whisk to combine and break up any clumps. Gradually add flour mixture to the creamed butter mixture, a little at a time, and blend well. Divide the dough into fourths and wrap in plastic wrap. Press wrapped dough gently to form a thin disk and freeze or refrigerate dough until firm, about 10-15 minutes, in the freezer.

Roll Dough: Roll each disk into a 6-inch log. Cut each log into 1/2-inch slices; roll each slice into a 9-inch rope, dusting with powder sugar as needed. Place ropes onto greased sheet pans and form into pretzel shapes. Space the pretzels 1 inch apart. Sprinkle a little bit of the coarse sugar onto each pretzel to resemble pretzel salt.

Bake Pretzels: Place sheet pans in the oven and bake for 7-9 minutes or until firm. Rotate pans halfway through baking. Remove sheet pans from oven and let cool 1-2 minutes before removing to wire racks to cool completely. Do not let pretzels sit any longer on sheet plans or they will crumble when removed.
Make Chocolate Sauce: In a saucepan, heat the cream and milk on medium until small bubbles appear around the edge. Add the sugar, vanilla, cayenne and salt. Place chocolate in medium bowl. Slowly whisk heated milk/cream mixture into the chocolates to melt and integrate. Return mixture to pot to keep warm over very low heat until ready to serve.

Serve: Transfer pretzels to a serving dish. Pour chocolate sauce into a decorative bowl and serve immediately.
Recipe created by Parties That Cook®
Serves/Makes
Makes 24 Chocolate Pretzels