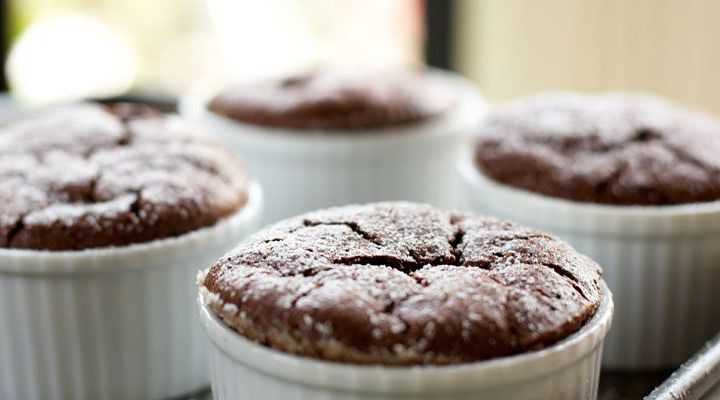 Chocolate Soufflé Cakes with Cocoa Whipped Cream
Ingredients
For preparing the baking cups:
Canola spray
2-4 Tablespoons sugar
2 oz baking vessel (we use heavy paper molds available at specialty stores)
Little spoons

Soufflé Cake::
6 ounces bittersweet chocolate, finely chopped
6 ounces (12 Tablespoons) unsalted butter
4 eggs
1/2 cup sugar
1 1/2 teaspoons vanilla extract

Cocoa Whipped Cream::
2 cups whipping cream whipped
1/2 cup confectioners' sugar
1 teaspoon pure vanilla extract
2 Tablespoons cocoa
Methods/Steps
Preheat the oven to 350ºF.

Prepare the molds: Generously spray baking molds. Dust the sides with granulated sugar and tap out the excess sugar.

Melt Chocolate and Butter: Bring a pot of water to a boil. Place the chocolate and butter in a bowl or double boiler. Turn off the flame and set the bowl over the steaming water (don't let bowl touch water). Alternatively, place the chocolate and butter into a stainless steel bowl and place into a low oven until melted. Once melted, stir to mix and remove from heat and let cool slightly.

Separate Eggs: Separate eggs and place yolks in large bowl and whites in medium bowl.

Mix Egg Yolks: Add the sugar and vanilla to the egg yolks. Using a mixer or a whisk, mix until the mixture is thick and pale. Gently whisk cooled chocolate mixture into the egg yolk mixture.

Whip Egg Whites: Vigorously whip egg whites to soft peaks and fold them into egg yolk/chocolate mixture. Bake Cakes: Divide the batter among all of the prepared molds and bake until raised and just set, about 12-15 minutes. Remove and place on cooling rack.

Make Whipped Cream: Beat cream until slightly thickened. Gradually add sugar, vanilla and cocoa. Beat until stiff peaks form.

Assemble: Serve the soufflés in the mold with a dollop of cream on each soufflé. Serve with a little spoon.
Recipe for cake created by Parties That Cook® and recipe for whipped cream adapted by Parties That Cook® from Wilton, www.Wilton.com
Serves/Makes
Makes 20 mini cakes