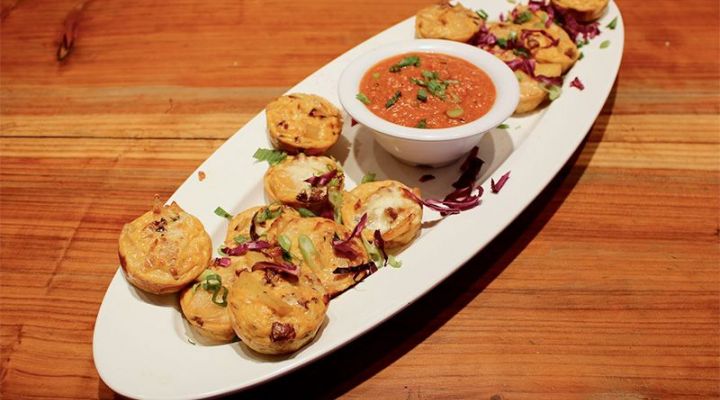 Chorizo and Potato Spanish Tortilla Bites Recipe
Ingredients
Chorizo and Potato:
Olive oil spray
1 medium onion, chopped
2 cloves garlic, finely chopped
1/2 bunch scallions, white parts only, finely chopped
1 teaspoon kosher salt
1/8 teaspoon black pepper
3 ounces Spanish chorizo (cured spiced pork sausage), cut into 1/4-inch dice
3/4 pound yellow-fleshed potatoes such as Yukon Gold, peeled and cut into 1/4-inch dice
Spanish Tortilla:
6 large eggs
1/4 cup sour cream
1 cup Manchego or white cheddar, coarsely grated
1 teaspoon thyme leaves
1 teaspoon kosher salt
1/8 teaspoon pepper
Toothpicks
Methods/Steps
Preheat oven to 400°F. Thoroughly spray a 24-muffin mini muffin pan.
Cook Chorizo and Potato: Heat oil in a 12-inch heavy skillet over moderately high heat until hot but not smoking. Cook onions, garlic and scallions with 1 teaspoon salt, and 1/8 teaspoon pepper until onions are golden, about 6 minutes. Add chorizo and cook until it just begins to brown and release oil, about 2 minutes. Reduce heat to low, stir in potatoes and cover skillet. Cook until potatoes are tender, stirring occasionally, about 10 minutes. Transfer mixture to a large bowl and cool slightly.
Prepare Spanish Tortilla: Whisk together eggs, sour cream, cheese, thyme, 1 teaspoon salt and 1/8 teaspoon pepper in a bowl. Add potato/chorizo mixture and mix well. Spoon into mini muffin tins, filling them half way. Bake until custard is set, about 8-10 minutes. Cool slightly. Loosen with a paring knife around the edges and serve.
Recipe created by Parties That Cook®
Serves/Makes
Makes 24