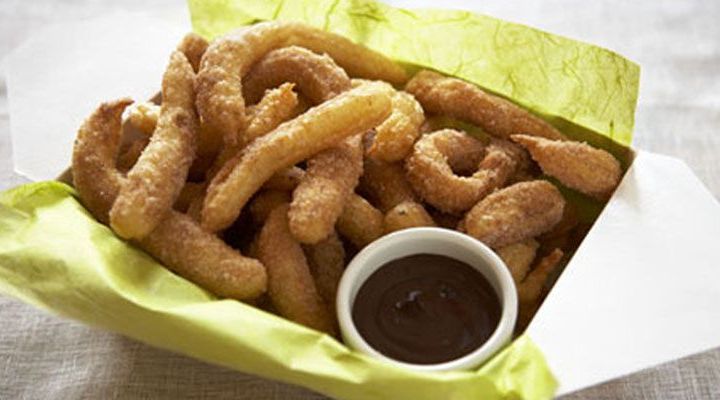 Cinnamon Churros with Mexican Chocolate Dipping Sauce Recipe
Ingredients
Churros:
6 quarts canola oil, for frying
1 3/4 cups water
2 sticks (1/2 pound) unsalted butter
1 teaspoon kosher salt
1 1/4 cups all-purpose flour
4 large eggs
1 large egg white
Plastic wrap
Cinnamon-Sugar Topping:
1 cup granulated sugar
2 teaspoons ground cinnamon
Chocolate Sauce:
1 cup heavy cream
1/4 cup milk
2 ounces bittersweet chocolate, finely chopped
3 ounces Mexican chocolate, finely chopped
1/2 cup sugar
1 teaspoon vanilla extract
1/8 teaspoon cayenne
1/2 teaspoon kosher salt
Methods/Steps
Prepare Batter: In a frying pan, heat the oil to 375°F. In a large saucepan, bring 1 3/4 cups of water to a boil with the butter and 1 teaspoon of salt. Remove from the heat, add the flour and stir vigorously until incorporated. Using an electric mixer beat the dough at low speed for 1 minute, just until slightly cooled. Increase the speed to medium-high and beat in the eggs and egg white, one at a time. Transfer the dough to a bowl, press a sheet of plastic wrap directly on the surface and put in the freezer until cooled to room temperature, about 10 minutes. Scoop the dough into a large pastry bag fitted with a large star tip.
Topping: In a bowl, mix together sugar and cinnamon.
Fry Churros: Set a cooling rack on a half sheet pan. Squeeze 4-inch lengths of the dough into the hot oil, cutting them off with a knife. Fry about 6 churros at a time; they expand as they cook. Turn over once or twice, until browned, about 4 minutes. Drain the churros on the rack for 2 minutes then dust with the cinnamon sugar.
Make Chocolate Sauce: Meanwhile, in a large saucepan, heat the cream and milk until small bubbles appear around the edge. Add the chocolates, sugar, vanilla, cayenne and salt. Whisk over low heat until the chocolate is melted. Keep warm over very low heat.
Serve: Serve at once with hot chocolate sauce.
Recipe created by Parties That Cook®
Serves/Makes
Makes 24