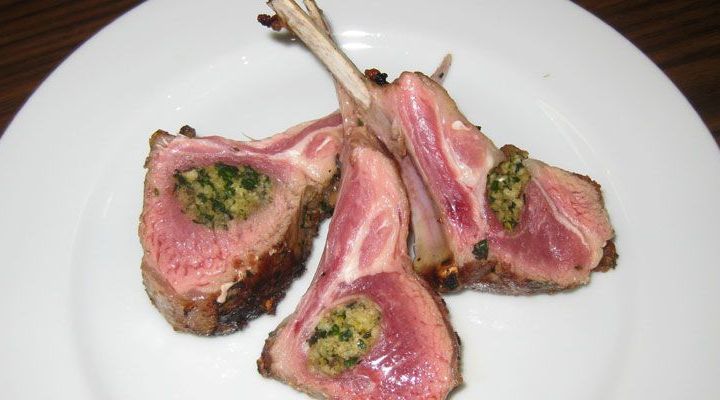 Citrus-Stuffed Rack of Lamb Recipe
Ingredients
1 cup water
1½ ounces currants (1/3 cup)
1 teaspoon lemon zest, chopped
1 Tablespoon each, fresh parsley, mint, thyme, chives, chopped
1 Tablespoon garlic, minced
1/3 ounce (¼ cup) bread crumbs
1 teaspoon balsamic vinegar
4 Tablespoons olive oil
Sea salt and black pepper to taste
1 rack of lamb (1 pound), trimmed, frenched, reserve trimmings
3 cups veal stock
3 sprigs of thyme
Methods/Steps
Preheat oven to 400°F.
Make Stuffing: In a small saucepan, bring water to a boil. Add the currants, let plump for 5 minutes and strain. In a mixing bowl, combine the currants, lemon zest, herbs, garlic, bread crumbs, balsamic vinegar, 1 Tablespoon of olive oil, salt and pepper to taste.
Stuff Meat: With a boning knife, make a ¾-inch slit, through the center of the meat on the rack. With the back of a wooden spoon or using your fingers, push the stuffing through the meat. Season with salt and pepper.
Make sauce: In a small sauté pan, brown the scraps from between the rib bones in 1 Tablespoon of olive oil. Pour off any oil or fat in the pan and add 1 cup of stock and a few branches of fresh thyme. Reduce to a syrup then add another cup of stock and reduce to a syrup again. Add the last ladle of stock, strain and season. Reheat the just when ready to serve.
Brown and Roast Rack of Lamb: In a large sauté pan, heat the remaining 2 Tablespoons of olive oil and brown the rack of lamb, fat side down until golden. Transfer to a roasting pan and roast rack 12 minutes, until internal temperature reads 130°. Let rest for 10 minutes.
Serve: Cut into chops, ladle sauce over and serve.
Additional Tips
Make It Ahead: Make the sauce 4 hours ahead and reheat before serving. Brown the meat one hour ahead.
Recipe created by Parties That Cook®
Serves/Makes
Serves 8