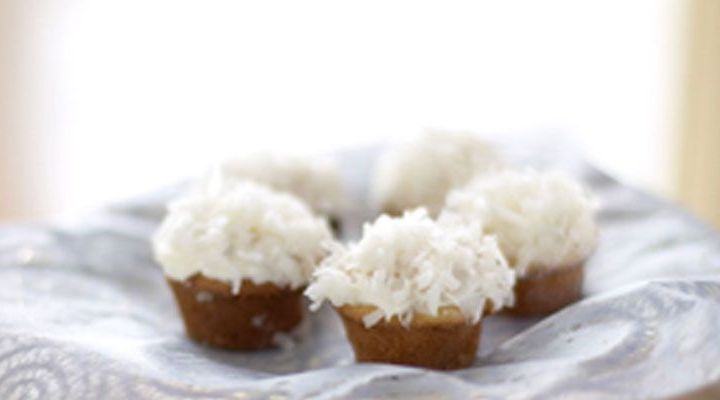 Coconut Cupcakes with Coconut Cream Frosting Recipe
Ingredients
Coconut Cake:
2 Tablespoons butter, melted (for muffin tins)
1 cup all-purpose flour
1/2 teaspoon baking powder
1/2 teaspoon kosher salt
1 stick (1/2 cup) unsalted butter, softened
2/3 cup sugar
1 teaspoon vanilla
2 large eggs, at room temperature
1/2 cup whole milk, at room temperature
3/4 cup unsweetened, shredded coconut
Coconut Cream Frosting:
1/2 cup butter
3 cups confectioner's sugar
2 Tablespoons coconut milk
1 teaspoon vanilla extract
1/2 teaspoon kosher salt
Garnish:
Coconut shavings, toasted until golden
Methods/Steps
Position rack in the center of the oven, preheat to 350°F.
Prepare muffin trays: Butter two mini-muffin trays to yield 24 muffins.
Dry Ingredients: Sift together flour, baking powder and salt. Set aside.
Batter: Beat butter with an electric mixer until creamy and pale in color, about 5 minutes. Gradually beat in sugar on high speed until the butter/sugar mixture is pale and fluffy, about 3 minutes. Add vanilla, and then beat in eggs, 1 at a time until well incorporated. (Mixture may look curdled and that is fine.)
Mix in dry ingredients alternately with milk in 3 additions each on low speed. Mix just until batter is smooth. Do not over mix. Fold in the coconut. Spoon batter into the muffin tins, until almost full. Bake in the middle of the oven until golden brown and a tester comes out clean, 10-15 minutes. Cool for 10 minutes then gently loosen the cakes and invert.
Frosting: Cream butter on high speed for 3 minutes or until light and fluffy. Add confectioner's sugar, coconut milk, vanilla, and salt. Mix together until smooth.
Assemble: Frost each cupcake with the coconut cream frosting then dip in coconut shavings to garnish.
Recipe created by Parties That Cook®
Serves/Makes
Makes 24