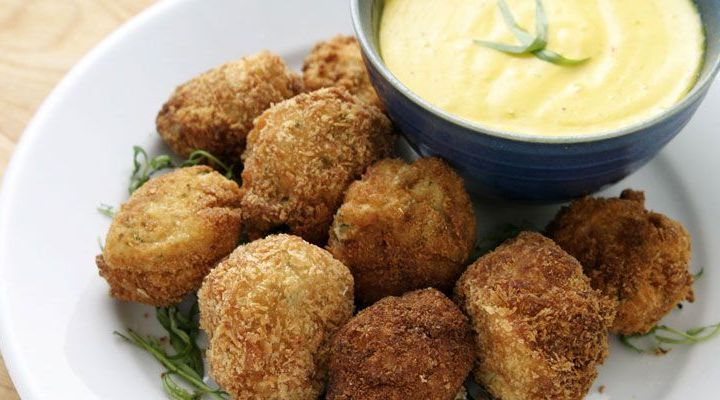 Crab and Roasted Red Pepper Beignets with Herbed Aioli Recipe
Ingredients
Batter:
1 large red bell pepper
1 cup AP flour
1/4 cup cornmeal
1 teaspoon baking powder
1 1/2 Tablespoons kosher salt
1/4 teaspoon ground black pepper
2/3 cup milk
2 large eggs, lightly beaten
2 scallions, minced
Zest and Juice of one lemon
12 ounces crabmeat, picked over
1 cup frozen corn kernels
4 cups canola oil, for frying
Herbed Aioli:
1 whole egg
1 egg yolk
1 teaspoon Dijon mustard
1/2 cup olive oil
1/2 cup canola oil
1 clove garlic, finely minced
Juice of 1/2 lemon
1 Tablespoon chopped basil
1 Tablespoon chopped cilantro
1/2 teaspoon chopped tarragon
1 teaspoon kosher salt
Methods/Steps
Preheat oven to 300°F.
Roast Pepper(s): Roast pepper(s) over a gas burner until blackened all over, turning with tongs as each side is blistered. (Alternatively, place under broiler). Transfer to a bowl and cover with plastic wrap, let stand about 15 minutes. Peel and discard skins, stems and seeds. Cut the pepper into 1/4-inch dice and set aside.
Make Batter: In a large bowl, whisk the flour with the cornmeal, baking powder, salt and pepper. Stir in the milk and beaten egg. Mince the scallion, zest and squeeze the lemon and add to the batter. Fold in the crabmeat, corn kernels, and diced red pepper. Let the batter rest for 5 minutes.
Fry Beignets: Set-up a cooling rack over a baking sheet. In a large high sided frying pan, heat 2-3 inches of canola oil to 350°F. Once the oil is hot, drop a heaping teaspoon or tiny scoop of batter into the oil. Fry until golden, about 1 minute per side. Check size of fried beignet and see if beignet is cooked all the way through. Then taste it to make sure it tastes good. Re season and make smaller if necessary. Once satisfied, fry the rest of the batter, without crowding the pan. Drain the beignets on the wire rack and keep warm in the oven while you fry the rest. Repeat with the remaining batter, adjusting the heat if the beignets brown too quickly.
Make Aioli Base: Place the egg, egg yolk and mustard into a medium bowl. Using a whisk, blend until thick (about 15-20 seconds). In a liquid measuring cup, combine the olive and canola oils. While whisking, add the oil drop by drop into egg mixture. Once a thick paste starts to develop you can slowly drizzle the oil into the bowl. Continue to do this in a slow, steady stream until all of the oil has been added. Do not add the oil too quickly and be sure that the emulsion is stable (has absorbed the oil) before adding more oil.
Flavor Aioli: Mince the garlic and juice the lemon. Add to the aioli. Finely chop the basil, cilantro and tarragon and whisk into the aioli. If the mixture becomes too thick, whisk in 2 or 3 tablespoons warm water to thin the mayonnaise and make a fluid sauce. Season the aioli with the salt. Taste and re season if necessary. Transfer to a small decorative bowl and garnish with an herb sprig.
Serve: Serve warm beignets on a platter with the bowl of herbed aioli.
Recipe created by Parties That Cook®
Serves/Makes
Makes about 40 - 1 inch round Beignets and 2 cups Aioli