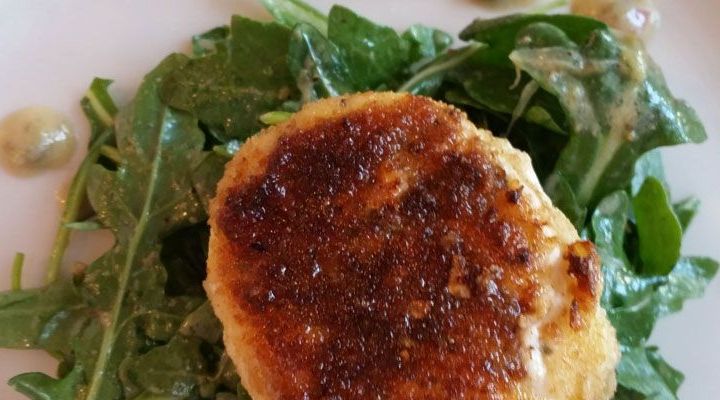 Crab Cakes with Herb Salad Recipe
Ingredients
Crab Cakes:
1 red bell pepper, roasted
1 Tablespoons extra-virgin olive oil
1/4 cup finely chopped celery
2 scallions, white and light green part only, thinly sliced
1/2 teaspoon minced fresh ginger
1/2 teaspoon ground cumin
1/2 teaspoon turmeric
1/8 teaspoon ground cardamom
1/2 cup heavy cream
1/2 pound jumbo lump crabmeat, picked over for shells and cartilage
3/4 cup fine breadcrumbs
2 Tablespoons finely chopped parsley
2 Tablespoons chopped chives
1/2 teaspoon finely grated lemon zest
1 teaspoon lemon juice
1/8 of cayenne pepper
3/4 teaspoon kosher salt
1 egg
3/4 cup panko (Japanese breadcrumbs)
1/4 cup canola oil
Cilantro-Orange Dressing:
1/2 cup fresh orange juice
1 teaspoon cumin seeds
1/2 cup lightly pack cilantro leaves
1 Tablespoon fresh lemon juice
1/4 cup extra-virgin olive oil
1/4 kosher salt
Pinch of pepper
Herb Salad:
3/4 cup flat leaf parsley leaves
1/2 cup fresh cilantro leaves
1/2 cup basil leaves, torn in half if leaves are large
1/4 cup fresh mint leaves
2 cups baby arugula
Methods/Steps
Roast the Pepper: Roast the pepper over a flame until blackened. Put the pepper into a paper bag (or a bowl covered with plastic wrap) for 5 minutes then peel off the charred skin and remove seeds and stem. Chop the pepper into 1/2-inch dice. Set aside half of the chopped pepper for garnish.
Make the Crab Cake mixture: Heat the canola oil in a non-stick pan over medium heat. Add the chopped celery and cook until the celery is just softened, about 3 minutes. Add the scallions and ginger and cook until the scallions are wilted, 1 to 2 minutes. Stir in the cumin, turmeric, and cardamom and cook until fragrant, about 1 more minute. Add half of the roasted, chopped red pepper then add the cream; bring to a gentle boil, and reduce by half, about 3 minutes. Transfer to a bowl and let cool slightly in the freezer for 2 minutes. Add the crab to the cream mixture along with the breadcrumbs, chopped parsley, chives, lemon zest, lemon juice, cayenne, salt and the egg. Mix well and adjust seasoning if necessary.
Assemble the Crab Cakes: With hands moistened in cool water, shape the crab mixture into 8 cakes; the cakes should be about 1 1/2 inches wide and 1/2 inch thick. Spread the 3/4 cup of panko and 1/4 teaspoon of salt in a breading pan. Coat the crab cakes with the breadcrumbs and then transfer to a sheet pan lined with parchment paper. Refrigerate until ready to cook.
Citrus Drizzle: In a saucepan, boil the orange juice over moderately high heat until reduced to 2 tablespoons, about 8 minutes. Let cool and then transfer to a blender. In a small dry skillet, toast the cumin seeds over moderate heat, shaking occasionally, until fragrant, about 2 minutes. Grind the cumin in a mortal pestle or in a spice grinder. Add the cumin, the cilantro and the lemon juice to the blender and blend until smooth. With the blender on, add the oil in a thin, steady stream. Add salt and pepper.
Herb Salad: Pick all the herb leaves and put into a medium bowl.
Cook the Crab Cakes: Heat 2 Tablespoons of the canola oil in a medium non-stick pan. Add half of the crab cakes; cook until browned and crisp, about 3 minutes on each side. Transfer to a cooling rack over a sheet pan. Repeat with the remaining crab cakes. Right before ready to serve, pop into a 300°F oven to warm for 5 minutes.
Serve: Just before serving, add half of the dressing to the herb salad and toss gently to coat. Add more as needed—the herb leaves should be coated and shiny but not drenched. Place a small handful of herb salad on a plate and top with a crab cake. Garnish crab cakes with a few cubes of the reserved roasted red bell pepper.
Recipe created by Parties That Cook®
Serves/Makes
Serves 8