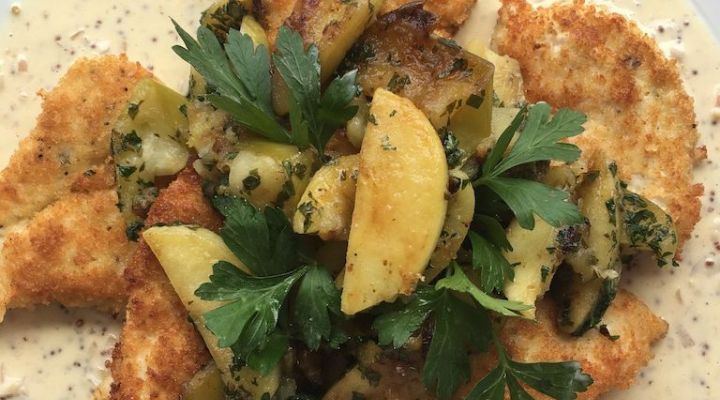 Crispy Chicken Schnitzel, Sautéed Apples and Whole Grain Mustard Sauce
Ingredients
Chicken Schnitzel:
½ cup AP flour
3 eggs, beaten
2 cups panko bread crumbs
1½ pounds boneless, skinless chicken breast
1 teaspoon kosher salt
½ teaspoon black pepper
½ cup vegetable or rice bran oil
Butterfly Chicken Breasts: Butterfly each breast, then cut each half again in half to create a total of 4 slices per breast. Place chicken breast on a cutting board and, with your hand flat on top of it, use a sharp knife to slice into one side of the breast, starting at the thicker end and ending at the thin point. Open out the breast so that it resembles a butterfly.
Make the Schnitzel: In 3 separate cake or other shallow pans, add the flour to one, eggs to one and panko to one. Set aside for breading. With a mallet, pound each piece to ¼" thick. Season the chicken with salt and pepper. Dredge the chicken in the flour- shaking off any excess, then dip in the eggs, and then coat thoroughly with panko-pressing the chicken to help the bread crumbs stick. Lay the breaded chicken on a sheet pan.

Line a sheet pan with a cooling rack and paper towels. In a large skillet, heat up half the oil. Carefully add the chicken, one at a time-careful not to crowd the pan. Cook over medium-high heat, about 3 minutes each side, or until golden brown. Remove and place on the cooling rack. Continue until all the chicken is cooked.
Whole Grain Mustard Sauce:
1 Tablespoon olive oil
1 small shallot, minced
⅓ cup white wine
½ cup heavy cream
2 Tablespoons whole grain mustard
2 Tablespoons butter, cubed
Make the Sauce: In a sauce pan, add the olive oil and add the shallots. Cook for about 2-3 minutes or until soft. Add the wine and cook until it is almost reduced dry. Add the cream and cook for 4-5 minutes. Remove from the heat, whisk in the mustard and butter.
Sauteed Apples:
2 Tablespoons olive oil
2 Granny Smith-or other sour apples, peeled, cored and quartered
1½ Tablespoons sherry vinegar
1½ Tablespoons honey
½ teaspoon kosher salt
1 Tablespoon butter
2 Tablespoons parsley, finely chopped
4 Tablespoons pomegranate seeds, to garnish the plate (optional)
Saute the Apples: Cut the apple halves into 6, ½"slices. Heat a sauté pan, add the olive oil, then apples. Cook over high heat for about 4 minutes on one side. Flip over, add the honey, vinegar and salt. Swirl the apples in the pan. Turn off the heat, swirl in the butter and parsley. Serve the chicken with the sauce and apples, and pomegranate garnish.
Recipe created by Parties That Cook®
Serves/Makes
Serves 8