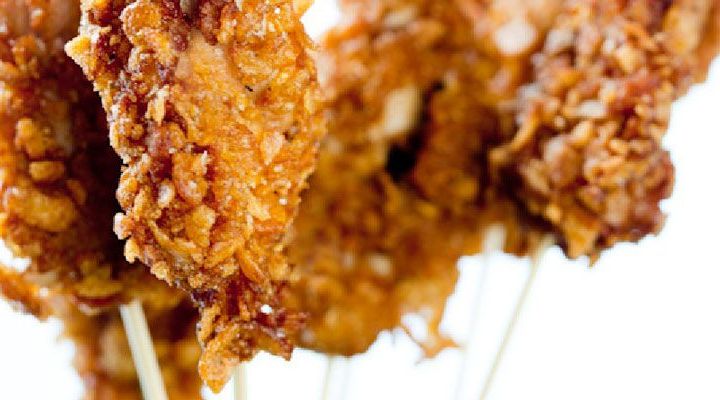 Crunchy Corn Flake and Buttermilk Coated Fried Chicken Skewers with Ranch Dressing Recipe
Ingredients
Brine:
4 cups water
1/4 cup kosher salt
1/4 cup sugar
1 clove garlic, smashed
3 sprigs of thyme
3 stems of parsley
2 bay leaves
1 lemon, sliced
1/2 teaspoon black peppercorns, cracked
2 pounds boneless, skinless chicken breasts, cut into 1 ½ inch cubes
6 cups canola oil for frying
Chicken Coating:
2 cups buttermilk
1 ½ teaspoons kosher salt
½ teaspoon ground black pepper
6 cups all purpose flour
1/4 cup garlic powder
1/4 cup onion powder
1 Tablespoon paprika
1 Tablespoon cayenne
½ teaspoon kosher salt
1 teaspoon ground black pepper
4 cups cornflakes, crushed
24- three-inch skewers
Fine sea salt for garnish
Thyme sprigs and lemon slices for garnish
Ranch Dressing:
1/2 cup sour cream
1/2 cup mayonnaise
1/2 cup buttermilk (may need more depending on how thick you want it)
2 teaspoons garlic powder
1 Tablespoon chopped parsley
1 Tablespoon chopped chives
2 teaspoons chopped dill
1/2 teaspoon Tabasco
2 teaspoons Worcestershire sauce
1 teaspoon kosher salt
1/8 teaspoon ground black pepper
Methods/Steps
Brine Chicken: In a large bowl, mix water, salt, sugar, garlic, thyme, parsley, bay, lemons and peppercorns together. Immerse the cut chicken in the brine for 1/2 hour. Careful not to over brine! Remove the chicken from the brine and rinse under cold water to remove any herbs or garlic from the skin. Pat dry. For best results let chicken air dry on a sheet pan for at least 5 minutes. While chicken is drying prepare to fry.

Prepare to Fry: Place canola oil into a high rimmed frying pan. Using a frying thermometer, heat oil to 350Fº. Place a cooling rack over a sheet pan to put the finished fried chicken onto.

Make Chicken Coating: Place buttermilk into a medium bowl and whisk in salt and pepper. Set aside. In a large bowl, whisk flour, garlic and onion powders, paprika, cayenne, salt and pepper. Scoop out 1 ½ cups of the coating into another large bowl and mix in the crushed cornflakes. You should have 3 bowls: a buttermilk bowl, a spiced flour bowl, and a spiced flour + cornflake bowl.

Coat Chicken: Helpful hint: Set up an assembly line for coating the chicken! Start with the pan of dry chicken, the bowl of coating without the cornflakes, the bowl of buttermilk, and then the bowl of cornflake coating. Place a parchment lined sheet pan at the end of the assembly line on which to place the coated chicken. Just before you are ready to fry, dip the chicken into the coating without the cornflakes, shake off excess; then dip into the buttermilk, let excess drip off; then dredge with the cornflake coating. Place the chicken onto the parchment-lined sheet pan.

Fry Chicken: Once the oil is 350Fº, using a skimmer, immerse 6-8 pieces of chicken in the hot oil and fry until a deep golden brown, about 4 minutes. Transfer to cooling rack over a sheet pan. Sprinkle fried chicken with sea salt. Repeat with remaining chicken. Let rest a couple minutes before eating or it will be too hot.
Ranch Dressing: Mix all of the dressing ingredients together in a medium bowl. Once well combined, transfer to a serving bowl with spoon.

Serve: Pierce each piece with a skewer, place on platter. Garnish with thyme sprigs and lemon slices and serve with ranch dressing.
Recipe created by Parties That Cook®
Serves/Makes
Serves 24