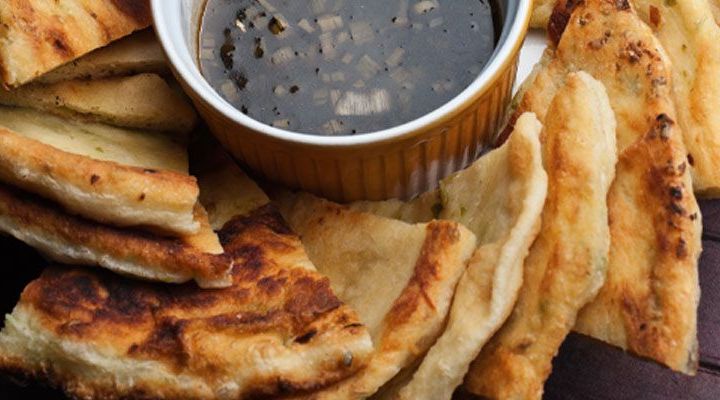 Crispy Green Onion Pancakes with Ponzu Glaze Recipe
Ingredients
Pizza Dough:
2-1/4 teaspoons (1 packet) active dry yeast
3/4 cup warm water (110°F - 115°F – warm to the touch like bathwater, but not hot)
2 cups all-purpose flour
1 1/4 teaspoons kosher salt
1 1/2 Tablespoons extra-virgin olive oil, plus more to coat bowl
Green Onion Pancakes:
6 scallions — 4 minced, 2 thinly sliced
2 tablespoons sesame oil
1 teaspoon kosher salt
1 pound of pizza dough
Bench flour
1/2 cup canola oil
Ponzu Glaze:
2 scallions, sliced thin
2 teaspoons sesame oil
1/2 cup ponzu sauce
2 Tablespoon water
2 teaspoons unseasoned rice vinegar
1 Tablespoon sugar
Methods/Steps
Make Dough: In a small bowl, mix yeast with 110°F - 115°F water. Let mixture sit in a warm spot until a thin layer of foam covers the surface indicating that yeast is effective, about 5 minutes. Mix flour and salt in the bowl of a food processor. Add the olive oil and yeast mixture; process until a dough ball forms, about 30 seconds. Remove from processor and knead into a ball, and place it in a well-oiled bowl, turning to coat it completely on all sides with oil. Cover bowl tightly with plastic wrap. Set dough to rise in a warm, draft-free place (75°-85°F), until doubled in volume, about 45 to 60 minutes. (Makes 1 pound of dough)
Make Pancakes: In a small bowl, mix the minced scallions with sesame oil and the salt. Cut the pizza dough in quarters. Dust work surface and rolling pin with flour. Roll out each piece of dough to a 10-by-6-inch rectangle. Onto each rectangle of dough, spread a quarter of the minced scallion mixture, leaving a 1/2-inch border on all sides. Starting at a long edge, roll up each piece of dough like a jelly roll and pinch to seal. Coil each roll of dough into a round and tuck the end under the coil. Cover and let stand for 15 minutes. In the meantime, skip to the ponzu glaze.
Make Glaze: In a small sauce pan, combine the sliced scallion, sesame oil, ponzu, water, vinegar and sugar. Bring to a boil then reduce heat and simmer for 3 minutes. Place into a serving bowl.
Roll Out Pancake Coils: With a rolling pin lightly dusted with flour, roll out each dough coil into an 8-inch round. (It's okay if some of the scallion mixture comes out; it will stick to the dough as you roll.)
Fry Pancakes: In a large sauté pan, heat the canola oil until shimmering. Fry one pancake at a time over moderately high heat, turning once, until golden, about 3 minutes total. Drain on paper towels.
Serve Pancakes: Cut the 4 pancakes into six triangles and serve on a platter with the ponzu glaze.
Recipe adapted by Parties That Cook® from Food and Wine Magazine November 2009
Serves/Makes
Makes 24 pieces