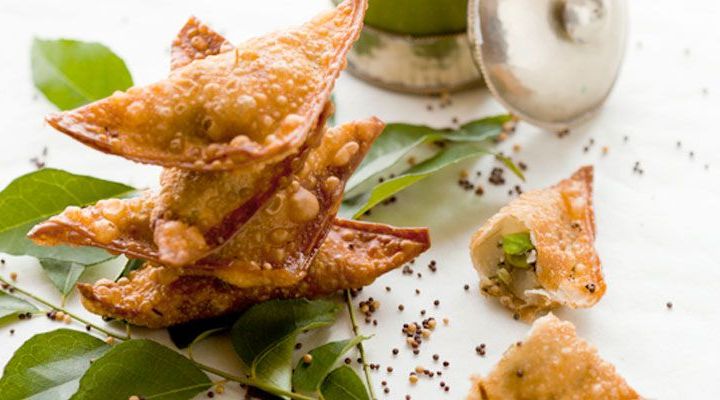 Crispy Vegetable Samosas with Mint Jalapeno Chutney
Ingredients
Filling:
1 medium russet potato
1 Tablespoon ghee or vegetable oil
1/4 teaspoon asafetida powder
2 teaspoons mustard seeds
1 cup cooked peas
2 jalapenos, seeded and chopped
1 1/2 teaspoons kosher salt
1 teaspoon garam masala
3 Tablespoons cilantro leaves, chopped
24 won ton wrappers
Sheet pan dusted with cornstarch
4-6 cups canola oil for frying
Chutney:
1 shallot, peeled, root end removed
1/2 yellow pepper, seeded
1 bunch cilantro leaves
1/2 bunch mint leaves
1 jalapeno, seeded
1 Tablespoon fresh ginger, grated
2 teaspoons lime juice
1 clove garlic
1/2 cup Greek yogurt
3 Tablespoons water
1 1/4 teaspoons kosher salt
1 teaspoon sugar
Methods/Steps
Make Filling: Peel potato and dice into 1/4-inch cubes. Blanch in boiling water for 1-2 minutes, or until tender but still firm. Drain and set aside. Heat the ghee or oil in a skillet and add the potatoes, asafetida powder, mustard seeds, peas, jalapenos and salt. Stir well over moderate heat for 2 minutes. Cover pan, reduce heat and cook gently for 7 minutes. Remove from heat and add the garam masala and chopped cilantro. Cool in refrigerator for a few minutes.
Assemble Samosas: Put 6 won ton wrappers on a dry surface and brush lightly with water, focusing on edges. (Leave remaining wrappers in package, covered with a damp towel to prevent drying.) Mound about 2 teaspoons of filling in the center of each wrapper. Fold one point over to meet the other to form a triangle. Press edges together to seal. Place on a tray dusted lightly with cornstarch. Repeat process with remaining wrappers.
Fry Samosas: In a large frying pan, add 4 cups canola oil and heat to 360°F. Working in batches, fry samosas until golden brown, about 1 minute per side. Using tongs, transfer samosas to cooling rack over a sheet pan.
Blend Chutney: Blend all ingredients in a blender until smooth. Pour chutney into a small bowl.
Serve: Serve samosas on a platter with chutney.
Recipe created by Parties That Cook®
Serves/Makes
Serves 24