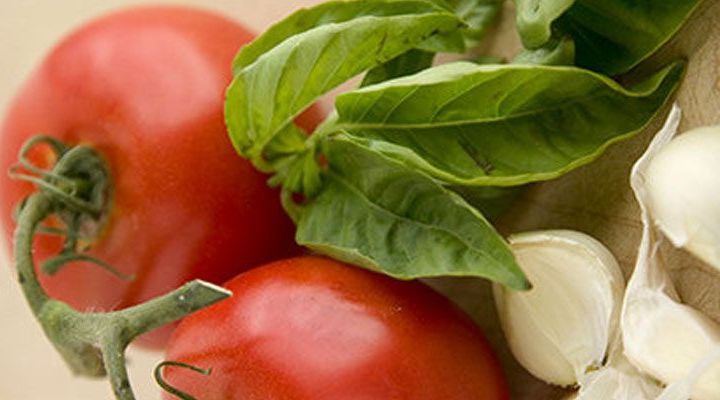 Crostini "Caprese" with Tomatoes, Mozzarella and Chocolate Balsamic Reduction Recipe
Ingredients
Crostini:
1 baguette
Extra-virgin olive oil for brushing the bread
2 cloves garlic, peeled and sliced in half
Chocolate Balsamic Reduction:
3/4 cup aged balsamic vinegar
2 Tablespoons sugar
1 ounce bittersweet chocolate, grated
"Caprese" Topping:
2 cups chopped tomatoes
2 Tablespoons extra virgin olive oil
3/4 teaspoon salt
1/8 teaspoon ground black pepper
6 ounces fresh buffalo mozzarella, cut into 1/4-inch cubes
1/4 cup of fresh basil leaves, chiffonade
Garnish:
Basil leaves
Methods/Steps
Preheat the oven to 350ºF
Prepare the Crostini: Slice the bread 1/4-inch thick on the bias. Brush the bread with olive oil and arrange on a sheet pan. Toast in the oven until golden, about 10 to 15 minutes. After toasting, lightlyrub both sides of the crostini with the halved garlic cloves.
Chocolate Balsamic Reduction: Combine vinegar and sugar in a small saucepan. Simmer slowly for 5-8 minutes or until vinegar is reduced by half. Remove from heat and whisk in the grated chocolate. Let cool to room temperature. The mixture will continue to thicken as it cools.
Topping: Combine tomatoes, salt and pepper and let stand for 10 minutes. Drain the tomato mixture; add the olive oil, cheese cubes and basil.
Serve: Top each crostini with 1 Tablespoon of the tomato mixture. Drizzle with the chocolate balsamic reduction and garnish with basil leaves.
Recipe created by Parties That Cook®
Serves/Makes
Makes 24 Pieces