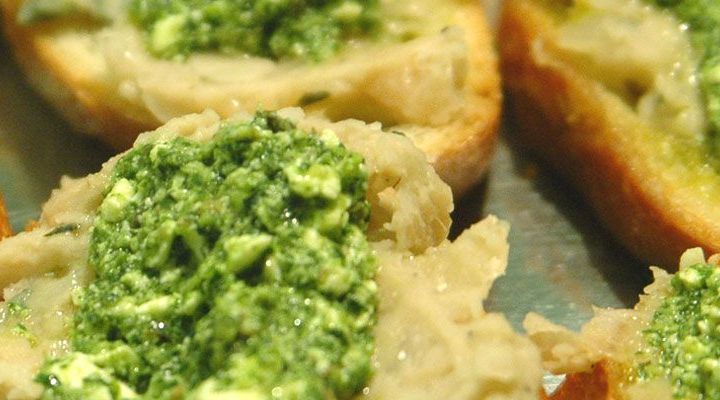 Crostini of Cannellini Beans, Lemon and Sage Recipe
Ingredients
7 ounces dried cannellini beans
1 baguette, cut into 1/2-inch slices on diagonal
2 garlic cloves, peeled, 1 of them cut in half lengthwise
1/4 cup extra-virgin olive oil, plus more for brushing
4 sage leaves, plus more for garnish
1/2 teaspoon rosemary leaves
Juice of 1 lemon
1/2 teaspoon fine lemon zest
1 1/2 teaspoons kosher salt
1/4 teaspoon freshly ground pepper
Lemon zest for garnish, optional
Methods/Steps
Preheat oven to 375°F.
Quick-Soak the Beans: Rinse and pick over beans. In a medium saucepan, cover beans with water, bring to boil and cook 5 minutes. Transfer to a heat-resistant surface, and let beans stand in water, uncovered, 1 hour. Drain beans; add fresh water to cover beans by at least 2 inches and return to medium heat. Simmer until soft and tender, about 45 minutes. Set aside.

Make Crostini: Brush one side of bread slices with olive oil, toast (oil side up) at 375ºF for 10-15 minutes, until golden and lightly crisp but not too hard. Remove from oven and very lightly rub garlic clove against each piece of toast.
Make Bean Puree: Drain beans, reserving liquid. Place beans, 2 cloves of garlic, 1/4 cup olive oil, sage, rosemary, lemon juice, zest, salt and pepper in a food processor. Puree until smooth. The consistency should be very smooth, not pasty or runny. If too thick, thin to desired consistency with reserved bean liquid.
To Serve: Spread approximately 2 Tablespoons of bean paste onto each crostini. Garnish each crostini with lemon zest and a baby sage leaf.
Recipe created by Parties That Cook®
Serves/Makes
Makes 24 crostini