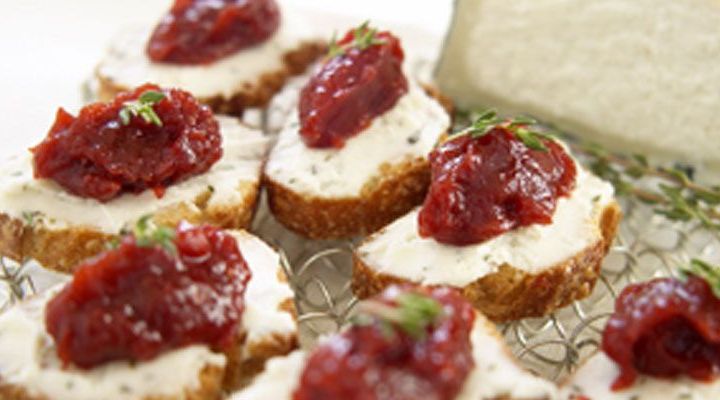 Crostini of Goat Cheese and Tomato Jam Recipe
Ingredients
Tomato Jam:
1 1/2 pounds ripe beefsteak or heirloom tomatoes, peeled and chopped, reserving any juice
3/4 cups sugar
1 orange, peeled and sectioned, roughly chopped, reserving any juice
Zest of 1 lemon
Juice of 1 lemon
1/4 teaspoon kosher salt
1 teaspoon lemon (or regular) thyme, chopped
Crostini:
1 baguette, sliced diagonally into slices 1/4-inch thick
1/4 cup olive oil
1 garlic clove, peeled
7 ounces goat cheese at room temperature
Thyme sprigs for garnish
Methods/Steps
Preheat oven to 375°F.
Make Jam: Place tomatoes, sugar, orange, lemon zest/juice (including tomato and orange juices) and salt in a food processor or blender until smooth. Pour tomato mixture into a large-sized sauté pan over moderate-high heat. Bring to a simmer, stirring frequently to prevent burning, until a jam-like thickness is achieved, about 15-20 minutes. Remove from heat and add thyme. Transfer to a small bowl and refrigerate until it is cool to the touch, about 15 minutes. Alternatively, place bowl in freezer for 5-10 minutes.
Make Crostini: Brush the bread slices on one side with olive oil. Arrange the slices on a baking sheet and cook until the slices are golden around the edges and crisp, about 10-15 minutes. Set aside to cool. Rub one side of each crostini with a clove of garlic.
Assembly: Spread 1 Tablespoon of the goat cheese evenly over the toasts. Top with a dollop of tomato jam on the goat cheese. Garnish with a sprig of thyme. Serve immediately.
Recipe created by Parties That Cook®
Serves/Makes
Serves 24