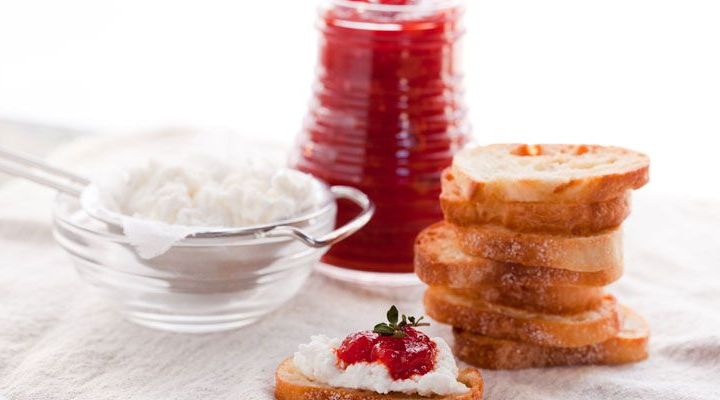 Crostini of Homemade Ricotta and Roasted Red Bell Pepper Jam Recipe
Ingredients
Roasted Red Bell Pepper Jam:
4 large red bell peppers, about 2 pounds
1 1/2 teaspoons kosher salt
2/3 cup cider vinegar
3/4 cups sugar
Ricotta:
6 cups whole milk
1 cup heavy cream
1/3 cup white vinegar
1 Tablespoon kosher salt
2 Tablespoons thyme leaves, chopped
Crostini:
1 baguette, sliced diagonally into slices 1/4-inch thick
1/4 cup olive oil
2 teaspoons salt
2 garlic cloves, peeled
Thyme leaves for garnish
Methods/Steps
Preheat oven to 375°F.
Roast or Broil Peppers: Slice each pepper into 4 panels and place skin-side up on a sheet pan. Broil the peppers until skin is blackened and blistered. Transfer to a bowl and cover with plastic wrap. Let stand about 10 minutes. Peel and discard skins, stems and seeds.
Make Jam: Process the peeled peppers in a food processor until finely pureed. Combine the peppers in a sauté pan with the salt, vinegar and sugar. Bring to a boil, then reduce the heat and simmer for about 15 minutes, stirring occasionally, until the jam becomes bright red and has reduced and thickened. Cool in freezer.
Heat Milk: Set up a double boiler. Fill a stock pot halfway with water and pour the milk and heavy cream into a bowl and place over the pot. Be sure the bottom of the bowl is not touching the water below it. Bring water to a boil and cook the milk for 15 minutes once the water has boiled. The temperature of the milk/cream should reach 180° F.
Make Cheese: Remove milk bowl from water. Immediately stir in white vinegar and salt with large spoon. Stir until curds begin to break, then cover pot and let stand for 5 minutes. Curds will rise to the top.
Strain Cheese: Place a cheesecloth-lined strainer over a bowl and pour cheese curds into the strainer. Let curds drain for 5 minutes before squeezing out the excess moisture. Transfer to a bowl and add chopped thyme leaves.
Make Crostini: Brush the bread slices on one side with olive oil. Arrange the slices on a baking sheet and cook until the slices are golden around the edges and crisp, about 10-15 minutes. Set aside to cool. Rub one side of each crostini with a clove of garlic.
Assemble: Spread 1 Tablespoon of the ricotta cheese evenly over the toasts. Top with a dollop of bell pepper jam. Garnish with a sprig of thyme. Serve immediately.
Recipe created by Parties That Cook®
Serves/Makes
Makes 25-30 pieces