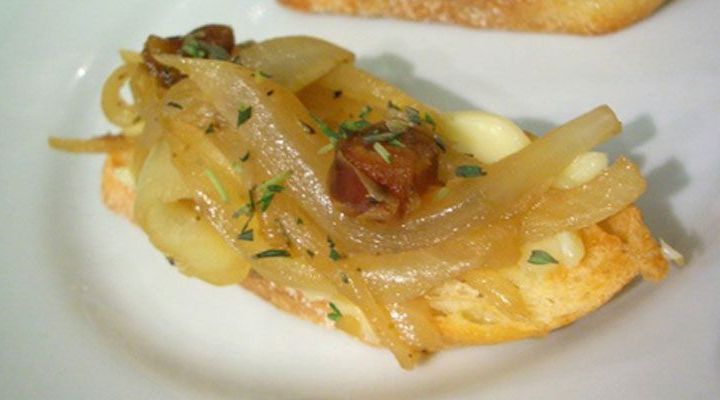 Crostini of Mascarpone with Orange and Honey Caramelized Fennel Recipe
Ingredients
Caramelized Fennel
2 Tablespoons butter
2 large fennel bulbs, stems and core removed, very thinly sliced into 1/4-inch-thick slices (reserve frond for garnish)
1/4 cup white wine
1 teaspoon orange zest
1/2 cup fresh squeezed orange juice (from about 2 navel oranges)
1/2 cup vegetable stock
2 Tablespoons honey
2 teaspoons balsamic vinegar
2 teaspoons fresh thyme, chopped
1 Tablespoon flat leaf parsley, chopped
1 1/4 teaspoons kosher salt

Crostini and Herbed Mascarpone
1 baguette, sliced diagonally into slices 1/4-inch thick
1/3 cup olive oil
8 ounces fresh mascarpone
1/4 teaspoon orange zest
1 teaspoon orange juice
1/2 teaspoon fresh thyme, chopped
1 Tablespoon flat leaf parsley, finely chopped
1/2 teaspoon salt
Parsley, thyme, or fennel frond for garnish
Methods/Steps
Preheat oven to 375°F.
Sauté Fennel: Melt butter in a large sauté pan. Add fennel and sauté until starting to soften and brown, about 15 minutes. Add wine and reduce to a syrup. Zest the orange and set aside (you will use the zest/ juice in the mascarpone so reserve any unused juice and zest). Add the orange juice, stock, honey and vinegar. Cook over medium heat until the fennel is caramelized, about 15-20 minutes. Add the reserved orange zest, thyme, parsley, and salt. Set aside.
Make Crostini: Brush the bread slices on both sides with olive oil. Arrange the slices on a baking sheet and cook until the slices are golden around the edges and crisp, about 10-15 minutes. Set aside to cool.
Herbed Mascarpone: In a small bowl, mix the mascarpone with a fork and add the orange zest and juice, thyme, parsley and salt.
Assemble Crostini: Spread 1 Tablespoon of mascarpone onto each crostini. Spoon a tablespoon of the fennel mixture on top, and garnish with a fennel frond. Serve.
Recipe created by Parties That Cook®
Serves/Makes
Makes 24 crostini