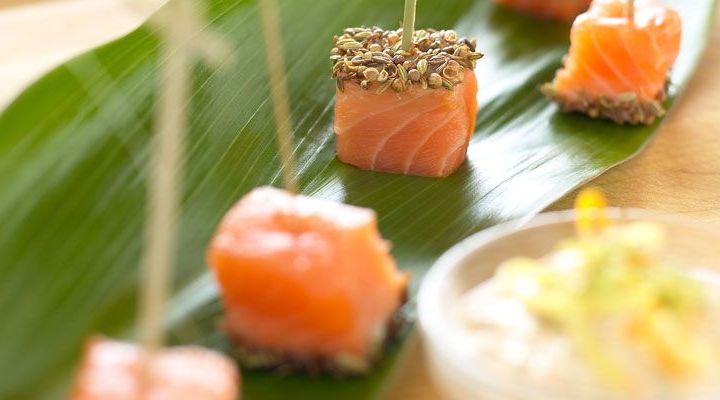 Curry-Dusted Salmon Skewers with Yogurt Dipping Sauce Recipe
Ingredients
Curried Salmon:
1 teaspoon cumin seeds
1 teaspoon coriander seeds
2 teaspoons fennel seeds
3 cloves
1 Tablespoon turmeric
1/2 teaspoon cayenne
1 1/4 teaspoons kosher salt
2 pounds salmon fillet, skin removed, cut into 1- inch cubes
2 Tablespoons olive oil
Yogurt Sauce:
1 1/2 cups Greek-style yogurt
1 Tablespoon olive oil
1 teaspoon mustard seeds
1 teaspoon cumin seeds
3 garlic cloves, finely chopped
1 teaspoon minced ginger
1 teaspoon lemon zest
1 Tablespoon lemon juice
1 serrano chile, finely chopped
1/4 cup cilantro leaves, chopped
1/4 cup mint leaves, chopped
2 teaspoons kosher salt
Toothpicks or 3-inch skewers
Methods/Steps
Preheat oven to 400°F

Curry Mixture: In a dry pan, toast the cumin, coriander, fennel, and cloves over medium heat until fragrant, 2 minutes. Transfer to a spice grinder to grind. Transfer spices to a small bowl and add the turmeric, cayenne and salt. Save sauté pan for toasting spices in sauce.
Prepare Fish: Cut salmon into 1-inch cubes. Transfer to a bowl and add the olive oil and then dip one side in the spice mixture. Put salmon on a parchment lined sheet pan, spice side up.
Sauce: Put the yogurt in a bowl. Using the same sauté pan from curry mixture, heat the olive oil over a medium flame. Add the mustard and cumin seeds. When the seeds begin to pop, add the garlic for 10 seconds then transfer contents of the pan into the bowl of yogurt. Stir in the ginger, lemon zest/juice, chile, cilantro, mint and salt. Stir and transfer to a serving bowl with a sprig of cilantro for garnish.
Roast the Salmon: Transfer salmon to a preheated 400°F oven to cook until the salmon is just cooked through, about 5-7 minutes. Transfer the salmon bites to a serving platter and skewer with toothpicks. Serve warm with the yogurt dipping sauce.
Recipe created by Parties That Cook®
Serves/Makes
Makes 24 skewers