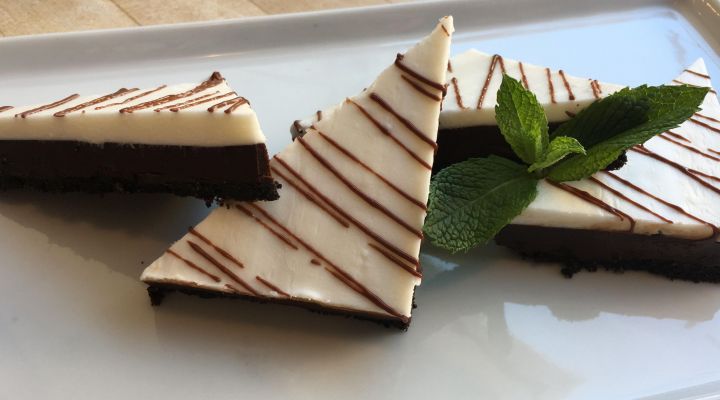 Double Chocolate Tart with Chocolate Crust and Mint Topping
Ingredients
Chocolate Crust:
7 ounces chocolate wafer cookies
3 Tablespoons sugar
3 ounces butter, melted
Pan spray
Make the Crust: Line a ¼ sheet pan with parchment paper, set aside. In a food processor, blend the cookies and sugar until finely ground. Remove from the food processor and put the crumbs into a mixing bowl. Add the melted butter and mix. Press evenly and gently into the sheet pan. Put in a freezer or fridge while making the filling.

Chocolate Filling:
1 cup heavy cream
12 ounces semi-sweet chocolate, chopped into pieces
2 ounces butter, cubed
3 Tablespoons sugar
¼ teaspoon salt
½ teaspoon vanilla
Make the Filling: In a pot, heat the cream. In a mixing bowl, add the chocolate, butter, sugar and salt. Pour the hot cream over the chocolate and butter, whisk until smooth. Add the vanilla, then pour into the chilled tart shell. Return to freezer or fridge.
Mint Topping:
3 cups powdered sugar, sifted
4 ounces butter, softened
2-3 Tablespoons milk
1½ teaspoons peppermint extract
Make the Topping: In a mixing bowl, add the sugar, butter, milk and extract. Start slowly using a hand mixer, beat all the ingredients together until it is smooth and fluffy. Spread over the cooled tart with an offset spatula. Put the tart back into the fridge or freezer to cool and set the mint-topping layer.
Chocolate Glaze:
1 cup powdered sugar
3 Tablespoons cocoa powder
2 Tablespoons milk
1 teaspoon vanilla
Make the Glaze: Sift together the powdered sugar and cocoa powder into a mixing bowl. Slowly stir in the milk and vanilla, to make a smooth, pourable glaze. Drizzle over the tart.
To Serve: Trim the outside edges. Cut into squares, then cut into triangles. Serve.
Recipe created by Parties That Cook®
Serves/Makes
Serves 16