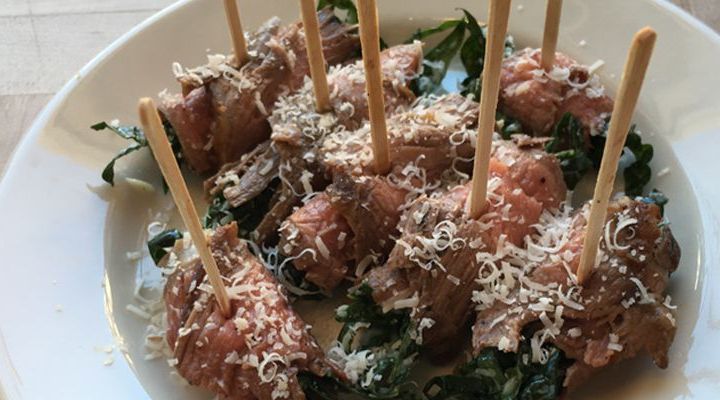 Flank Steak and Kale Caesar Roulades with Parmigiano-Reggiano Recipe
Ingredients
Roasted Beef:
½ pound flank steak
2 teaspoons kosher salt
1 teaspoon black pepper
Olive oil
Kale Caesar:
3 salt packed anchovies, bones removed, soaked in milk for 10 minutes to remove salty and fishy taste
1 bunch kale
2 cloves garlic, peeled
¼ cup lemon juice
½ cup extra-virgin olive oil
1 ½ teaspoons kosher salt
¼ teaspoon freshly ground black pepper
½ cup finely grated Parmigiano-Reggiano cheese, reserving half for garnish
Small baby forks or skewers
Methods/Steps
Roasting the Beef: Season the flank steak with salt and pepper. In a grill or sauté pan, heat olive oil and add the steak once the oil has gotten hot. Cook for about 6 minutes on each side for medium rare meat, longer if it is a thicker cut of meat. Let rest for at least 5 minutes before slicing.
Making the Caesar: Remove the leaves of the kale from the stem. Cut in half length wise, then roll each half and thinly slice. Place in a mixing bowl, and set aside.
Combine garlic, lemon juice, olive oil, salt and pepper in a blender and process until emulsified. Rough chop the anchovies and mix with the blended dressing in a small bowl. Toss kale in half the dressing and more if needed. Add half the parmesan.
Compose: Thinly slice the beef against the grain (see photo) at a 45° angle, keeping the slices intact as they will be rolled. Trim slices of beef to 3-inch length. Add a small amount of the Caesar in the center, and roll closed sealing bundle with a small fork or toothpick. Serve on a platter sprinkled with remaining parmesan.
Recipe created by Parties That Cook®
Serves/Makes
Makes 36