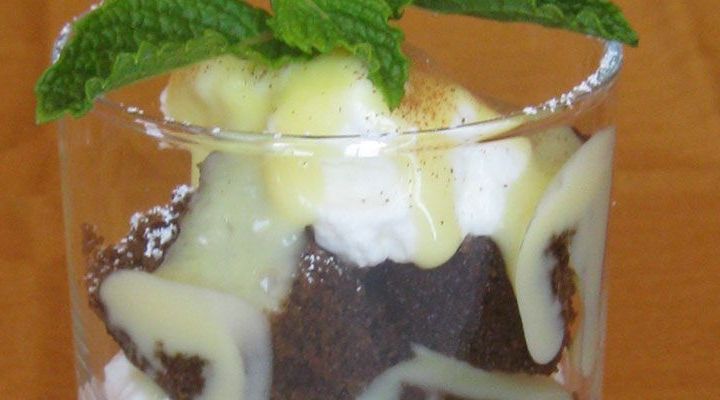 Gingerbread Trifle with Warm Bourbon Custard Recipe
Ingredients
Gingerbread:
Nonstick baking spray
1/4 cup fresh ginger, peeled and coarsely grated
3 Tablespoons hot water
6 Tablespoons granulated sugar
1/3 cup vegetable oil
6 Tablespoons blackstrap molasses
1/4 teaspoon kosher salt
1 large eggs
3/4 cup all-purpose flour
1/2 teaspoon baking soda
1/2 teaspoon ground cinnamon
1/8 teaspoon ground cloves
1/8 teaspoon freshly ground black pepper

1 -24 cup mini muffin tins for baking
Wine glasses or rocks glasses for serving
Or tiny cups/spoons for serving mini trifles
Bourbon Custard (makes 1-1 1/2 cups):
3/4 cups milk, warmed
3/4 cup heavy cream, warmed
4 large egg yolks
1/2 cup sugar
1/4 teaspoon kosher salt
1 teaspoons bourbon or whiskey
Garnish:
1 cup heavy cream
2 Tablespoons powdered sugar
2 Tablespoons candied ginger
Freshly ground black pepper (optional)
Methods/Steps
Preheat oven to 325ºF.
Prepare Muffin Pans: Generously spray muffin pans with nonstick baking spray.
Puree Ginger: Grate the ginger and place into a blender. Add the hot water and process until smooth. Pour the pureed ginger into a mixing bowl.
Mix Wet Ingredients: Add the sugar, oil, molasses and salt to the bowl of pureed ginger. Beat on medium speed using a hand mixer until well mixed. Add the eggs and beat until incorporated.
Sift Dry Ingredients: Into another small bowl, sift together the flour, baking soda, cinnamon, cloves, and black pepper. Stir to combine. Add the dry flour mixture to the wet ingredients and beat on low speed until moistened. Switch to high speed until the batter is perfectly smooth, about 1 minute.
Fill Cupcake Pans: Fill each cup a little less than half way full, about 1 Tablespoon. It will look too empty but the batter will rise a lot in the oven. If filled any higher the batter will overflow out of the cups. Bake the cakes until a toothpick inserted in the center comes out clean, about 15 minutes. Let cool for 5 minutes in the pan. Invert muffin tin to release the cupcake (may need to run a knife around cakes and gently remove them if they stick). Cut each cupcake into 4 quarters and place into a large bowl until service.
Warm Liquids: Place a saucepan over low to medium heat and add the milk and cream. Heat the mixture until warm to the touch.
Make Custard: Bring about 2 inches of water to a boil in a small saucepan. In a stainless steel bowl, whisk the yolks and sugar until thickened. Whisk in the warm milk and cream. Set the bowl over the simmering water and whisk over moderate heat until the custard is very thick, about 15 minutes, then stir in the salt and bourbon. Turn heat off but keep custard bowl on top of saucepan to keep warm until service.
Prepare Garnishes: Combine the cream and powdered sugar in a bowl. Whip until soft peaks form. Set aside. Roughly chop candied ginger.
Assemble Large Trifles (mini trifles see below): Place 4 pieces of cake into each glass. Ladle or spoon 2 tablespoons of custard into all of the glasses then finish with 1 tablespoon of whipped cream. Repeat process with 4 more pieces of cake, custard and whipped cream. Top with some candied ginger and a sprinkle with a hint of black pepper. Serve immediately.
*For Mini Trifles: Place 2 pieces of cake into each cup. Ladle or spoon 1 tablespoon of custard into all of the cups then finish with 1/2 tablespoon of whipped cream. Repeat process with 2 more pieces of cake, custard and whipped cream. Top with some candied ginger and a sprinkle with a hint of black pepper. Serve immediately.

Recipe created by Parties That Cook®
Serves/Makes
Makes 12 plated dessert trifles or 24 mini small plate trifles