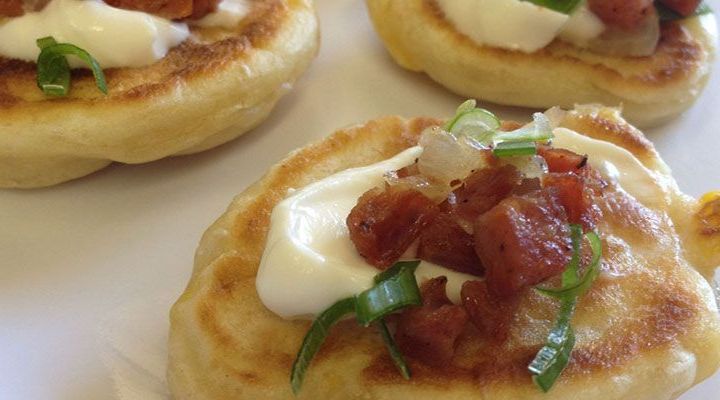 Griddled Corn Cakes with Bacon and Sour Cream Recipe
Ingredients
Corn Cakes:
6 slices bacon
2 cups corn (when out of season, use frozen)
1 cup all-purpose flour
1/2 cup finely ground cornmeal
1 teaspoon sugar
3/4 teaspoon baking powder
2 teaspoons kosher salt
3/4 cup heavy cream
1/3 cup milk
3 Tablespoons unsalted butter, melted
1 teaspoon lemon zest
2 teaspoons lemon juice
3 large eggs, room temperature
1 teaspoon rosemary needles, chopped
Canola oil (for grilling)

Garnish:
1/2 cup sour cream
1/4 teaspoon salt
1/2 teaspoon lemon juice

Rosemary needles for garnish

Methods/Steps
Cook Bacon: Put bacon on a cooling rack over a sheet pan. Transfer to the oven and cook until crisp, about 12 minutes. Let cool on the cooling rack. Once cool, chop 4 pieces into small 1/4" bits and transfer to a small bowl – will use later for batter. Chop remaining 2 pieces into 1/2" bits and place in a small bowl to be used for garnish. Set aside.
Blanch Corn: Prepare an ice bath and set aside. Bring a medium saucepan of water to a boil. Add 1 Tablespoon of salt and the corn. Return water to a boil; cook 1 minute. Using a skimmer, transfer the corn to an ice bath to stop the cooking and preserve their bright yellow color. Drain and pat dry with a towel.
Make Batter: In a large bowl, mix together flour, cornmeal, sugar, baking powder and salt; set aside. Transfer 1 cup of the corn to the jar of a blender. Add the cream, milk, melted butter, lemon zest and juice; blend for 20 seconds. Add eggs, and process a few seconds more, just until they are fully combined. Pour corn mixture into flour mixture; add the remaining corn, the 4 pieces of chopped bacon and the chopped rosemary needle; fold to mix.
Expert Tip: Do not over mix or the cakes will be tough.
Cook Cakes: Pour a Tablespoon of canola oil into a non-stick pan and spread evenly. Working in batches, drop a heaping Tablespoon (1 ounce ladle) of batter into the pan, being careful not to overcrowd. Cook until the underside is golden, about 2 minutes. Turn cakes over and cook until the other side is golden and the cake is cooked through, about two minutes more. Transfer to a large serving platter. Repeat with the remaining batter, adding more canola as needed between batches.
Garnish: Combine the sour cream, salt and lemon juice.
Serve: Top each cake with a dollop of sour cream and sprinkle with bacon. Serve immediately.
Recipe created by Parties That Cook®
Serves/Makes
Served 24 Corn Cakes