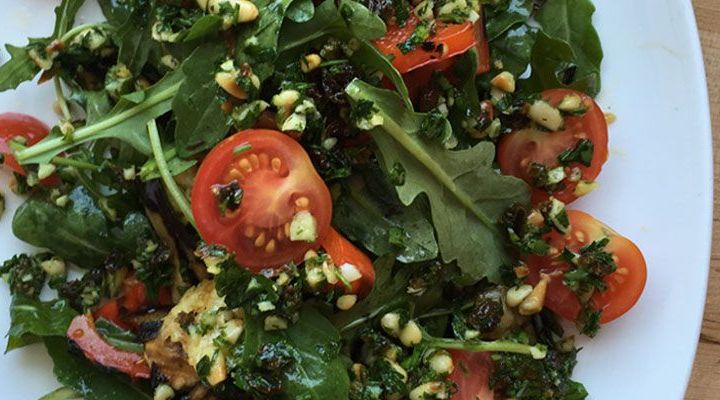 Grilled Summer Vegetable Salad with Arugula and Pine Nut-Raisin Gremolata Recipe
Ingredients
Vinaigrette:
1 medium shallot, minced
1 teaspoon salt
¼ cup balsamic vinegar
½ cup olive oil
Juice from 1 lemon (Zest lemon for Gremolata first)
Vegetables:
1 small eggplant, sliced
1 medium zucchini, sliced
2 medium red peppers, seeded and cut in half
2 teaspoons kosher salt
½ teaspoon black pepper
2 Tablespoons olive oil
3 cups arugula
1 cup cherry tomatoes, cut in half
Gremolata:
½ cup pine nuts, toasted and rough chopped
½ cup raisins, rough chopped
1 lemon zested
I bunch parsley, minced
3 garlic cloves, grated
1 teaspoon salt
2 Tablespoons olive oil
Methods/Steps
Make Vinaigrette: Mix minced shallot with salt and vinegar in a small bowl. Let sit until you finish grilling the vegetables before adding the remaining ingredients.
Grill Vegetables: Prep the eggplant, zucchini and red peppers to be grilled. Heat a grill pan over 2 burners. Working in batches, toss in a mixing bowl each type of prepped vegetable with part of the olive oil, salt and pepper. Grill until tender and set aside on a sheet tray. Continue until all vegetables are grilled. Cut the vegetables into half or thirds, depending on size, and put in a large mixing bowl. Add the arugula and cherry tomatoes, but do not mix. Set aside.
Make Gremolata: Zest lemon and add to minced parsley, garlic and salt into a bowl. Add pine nuts, raisins and olive oil and mix.
Finish Vinaigrette: Add the olive oil and lemon juice to the shallot mixture. Toss with the vegetables and plate. Sprinkle gremolata over plated salad and serve.
Recipe created by Parties That Cook®
Serves/Makes
Serves 8