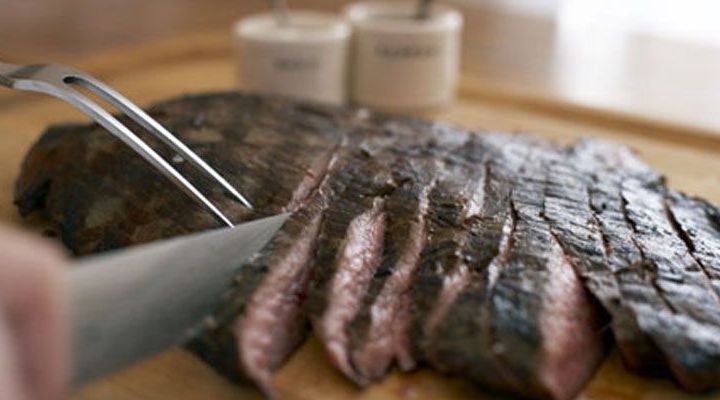 Hanukkah Recipe: Brisket with Burgundy-Orange Sauce Recipe
Ingredients
1 envelope (about 1 ounce) onion soup mix
1 1/2 cups Burgundy wine
1/4 cup water
2 Tablespoons flour
1 Tablespoon dried basil
2 teaspoons dried thyme
1/3 cup orange marmalade
1 1/2 teaspoons grated orange peel
2 teaspoons sugar
4 cloves garlic, minced
1/4 to 1/2 teaspoon pepper to taste
1 (4-pound) brisket of beef, trimmed as much fat as possible
1 pound mushrooms, cleaned; if large, cut in halves or quarters
Methods/Steps
Preheat oven to 300°F.
To make brisket: In a roaster into which the brisket fits comfortably, stir together soup mix, wine, water, and flour until blended. Stir in basil, thyme, marmalade, orange peel, sugar, garlic, and pepper. Add brisket, spooning some of the sauce over the top. Cover and bake for 4 hours, basting every hour until tender when pierced with a fork. If sauce bubbles rapidly, reduce oven to 275 degrees. Remove from the oven and place brisket on a sheet of heavy foil. Pour sauce into bowl, cover, and refrigerate. When brisket is cool, wrap in foil and refrigerate. (Brisket and sauce may be refrigerated separately overnight.)
To Carve: Remove solidified fat from the sauce and discard. Slice brisket thinly against the grain. Overlap slices in a shallow, ovenproof dish that is just large enough to hold them. Pour sauce over meat. (Brisket may be refrigerated, covered, up to 2 days or frozen. Defrost in refrigerator overnight. Bring to room temperature before reheating.)
To Reheat: Preheat oven to 325 or 350 degrees. Add mushrooms to meat, basting with the sauce. Bake, covered with foil, for 40 to 50 minutes, basting once, until heated through and mushrooms taste tender.
Recipe created by Parties That Cook®
Serves/Makes
Serves 8