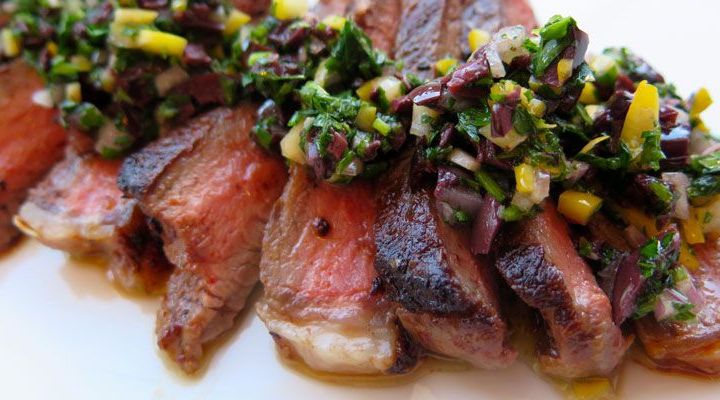 Harissa-Crusted Flank Steak with Presserved Lemon Relish Recipe
Ingredients
Flank Steak:
1 ¾ teaspoons caraway seeds
¼ cup extra-virgin olive oil
6 garlic cloves
¼ cup sriracha
2 Tablespoons tomato paste
1 ½ teaspoons ground cumin
1 ¼ teaspoons chili powder
3 pounds flank steak, most of fat layer trimmed
Lemon Relish:
½ cup preserved lemon, flesh and seeds removed, skin chopped
¼ cup fresh parsley, chopped
¼ cup Kalamata olives, pitted and chopped
¼ cup shallots, chopped
3 Tablespoons olive oil
Freshly ground black pepper
Methods/Steps
Flank Steak: Preheat oven to 450°F. Toast caraway seeds in small nonstick skillet over medium heat until seeds darken and begin to smoke, stirring often, about 5 minutes. Add olive oil and garlic cloves to caraway seeds in skillet. Cover; remove from heat. Let stand 1 minute. Pour caraway mixture into a food processor. Add chili paste, tomato paste, cumin, and chili powder and blend until garlic cloves are pureed. Season the harissa rub to taste with salt.
Season beef all over with salt and pepper; place beef, fat side down, on rack on sheet pan. Spread with half of harissa. Turn beef over; spread remaining harissa over top and sides. Roast the flank steak until thermometer inserted into center registers 125°F to 130°F for medium-rare, about 15-20 minutes.
Let rest 5 minutes. Slice against the grain.
Lemon Relish: Combine all of the ingredients in a bowl and stir. Top the sliced flank steak and serve.
Recipe created by Parties That Cook®
Serves/Makes
Serves 8