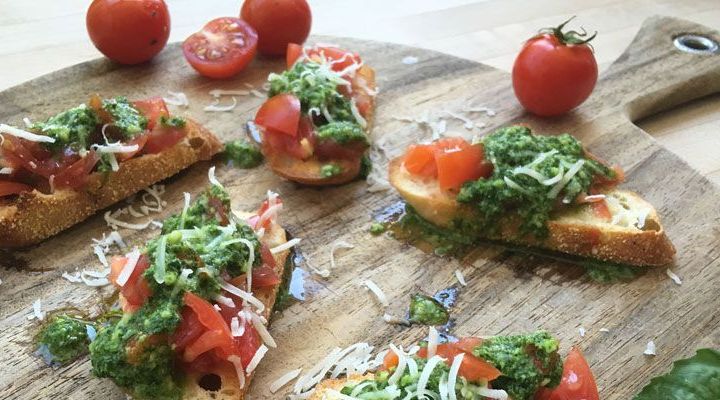 Heirloom Tomato Bruschetta with Basil Pesto Recipe
Ingredients
Crostini:
1 baguette cut in ¼ inch slices
2 Tablespoons olive oil
Heirloom Tomato Topping:
½ red onion, small diced
2 teaspoons salt
4 medium sized tomatoes, diced
2 cloves garlic, minced
2 Tablespoons red wine vinegar
Basil pesto:
1 ½ cups fresh basil leaves, packed
⅓ cup freshly-grated Parmigiano-Reggiano
¼ cup pine nuts, toasted
½ teaspoon lemon zest
2 Tablespoons fresh lemon juice
1 large clove garlic, peeled
½ teaspoon kosher salt
⅛ teaspoon black pepper
½ cup extra-virgin olive oil
Methods/Steps
Make the Crostini: Preheat the oven to 375˚F. Thinly slice the baguette at a slight angle, about ¼ inch. Place flat on a baking pan and drizzle them with olive oil. Bake for 10 minutes or until golden brown. Set aside.
Make the Tomato topping: Take the thinly sliced red onion and toss with ¼ of the salt, and leave in the bottom of a large mixing bowl with the vinegar. Dice the tomatoes and put them in the bowl with the onions. Do not mix. Add the minced garlic and the rest of the salt. Mix and set aside.
Make Pesto: Place all the ingredients except for the olive oil into the bowl of a food processor. Process until the mixture starts to form a smooth paste. Slowly start adding the olive oil. Taste and re-season as necessary. Transfer pesto into a small bowl.
Building the Bruschetta: On a crostini, top with 2 heaping tablespoons of the tomato topping, drizzle with a teaspoon of pesto, and serve.
Recipe created by Parties That Cook®
Serves/Makes
Makes 24