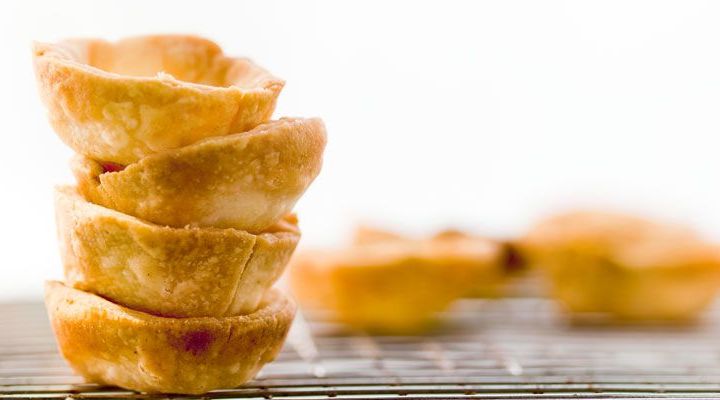 Holiday Entree Recipe: Golden Flaky Pie Crust with Fleur de Sel
Ingredients
Crust:
5 cups all purpose flour + more for bench flour
2 ½ teaspoons kosher
5 (1 ¼ pounds) sticks unsalted butter, cut into ¼ inch pieces and chilled
About ½ cup ice water
Nonstick baking spray
3 eggs, lightly beaten
Coarse fleur de sel as garnish

Garnishing Salad with Citrus Vinaigrette:
1 cup fresh orange juice
1 Tablespoon fresh lemon juice
1/4 cup extra virgin olive oil
1/4 teaspoon celery salt
1/4 teaspoon kosher salt
5 cups baby wild rocket (arugula)
Methods/Steps
Preheat oven to 375 degrees.

Make Crust: In a large bowl, combine the flour and the salt. Add the cold butter and toss to coat with the flour. Using your hands or a pastry cutter, work the butter into the flour, incorporating any pieces of butter that have fallen to the bottom of the bowl. Work the dough in this way until you have pieces that are no larger than a pea. Drizzle half of the ice water over the top, and using a fork, mix the dough until it just holds together when pinched. Add more ice water a Tablespoon at a time until this consistency is achieved. Bring the dough mass into a ball and flatten into a disk. Cut the disk in 4 equal parts. Form each part into a disk, wrap with plastic and refrigerate until ready to roll.

Roll Dough: Lightly flour the work surface and rolling pin. Roll a disk of dough out until it is about an 1/8 inch thick (keep the other rounds cold in the refrigerator). Using a 4 inch round or fluted ring cutter, cut the dough into 5 rounds. Lay the rounds onto a sprayed sheet pan and continue with the rest of the dough. Once you have 20 rounds make decorative leaves or vines to garnish half of the dough rounds for the top crust of the napoleon. Place the dough into the refrigerator or freezer until ready to bake.

Bake dough: Brush the dough with the beaten egg. Add the garnishing leaves and or vines to half of the rounds and brush with more egg wash. Sprinkle the rounds with some coarse fleur de sel. Bake all of the dough until golden brown, about 10 minutes. Gently remove the flaky dough from the sheet pan as it will be delicate.

Make Garnishing Salad: In a saucepan, boil the orange juice over moderately high heat until reduced to a few Tablespoons, about 5 minutes. Let cool and then transfer to a bowl. Add the lemon juice, celery salt and kosher salt and whisk together. While whisking, add the oil in a thin steady stream . At time of service, dress the arugula with half of the vinaigrette. Taste and add more as needed. Serve on top or to the side of the pot pies.

**Roasted Turkey and Root Vegetable Pot Pie recipe here!
Recipe created by Parties That Cook®
Serves/Makes
Serves 8