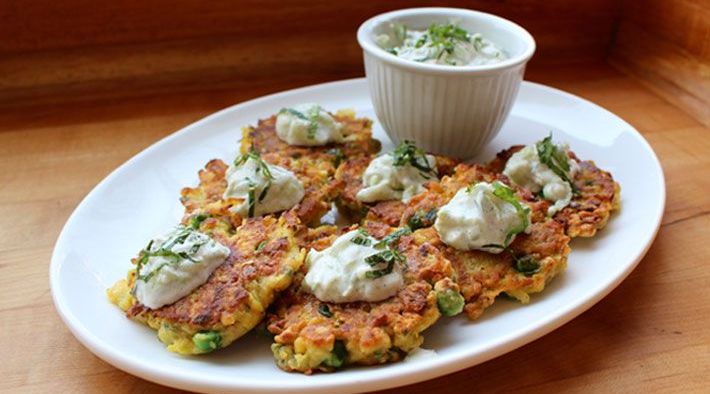 Indian Spiced Chickpea Pancakes with Leeks, Carrots and Peas with Yogurt Raita Recipe
Ingredients
Yogurt Raita:
½ cup Greek yogurt
½ English cucumber, peel ½ of outside rind; seeded
2 scallions, finely chopped
¼ teaspoon ground cumin
¼ teaspoon ground coriander
1 teaspoon kosher salt
Chickpea Pancakes:
2 Tablespoons olive oil
2 medium leeks, white only-sliced into half moons
1 teaspoon kosher salt
1 teaspoon black pepper
4 carrots, peeled and grated
½ cup peas
Pancake Batter:
2 eggs
1½ cups chickpea flour
½ teaspoon baking powder
1 teaspoon salt
1 teaspoon pepper
½ cup water
½ bunch mint, chopped
Olive oil for frying
Methods/Steps
Make the Raita: Grate cucumber onto a sheet pan lined with paper towels or a clean kitchen towel to absorb excess moisture. In a mixing bowl, add the yogurt, grated cucumber, scallions, cumin, coriander and salt. Mix and set aside for garnish.
Line a sheet pan with parchment, and set aside. In a large nonstick pan, heat a couple Tablespoons of olive oil. Add the sliced leeks, and season with salt and pepper. Cook for about 4 minutes or until soft. Add the carrots and peas, cook until the carrots have softened-about 2 minutes. Remove from the sauté pan and let cool on the sheet pan. Keep the pan.
Make the Pancake Batter: In a mixing bowl, add the eggs, flour, baking powder, salt, pepper, water and whisk together. Add the sautéed vegetables and mint. Keep the sheet pan and add a cooling rack.
Cook the Pancakes: In the same nonstick pan, add oil-about 2 Tablespoons at a time. Heat, and add ⅛ cup of the pancake batter. About 6 pancakes per batch. Cook for about 4 minutes, flip and cook for another 2 minutes. Put on the cooling rack. Serve 2 pancakes per person with a dollop of raita.
Recipe created by Parties That Cook®
Serves/Makes
Serves 8