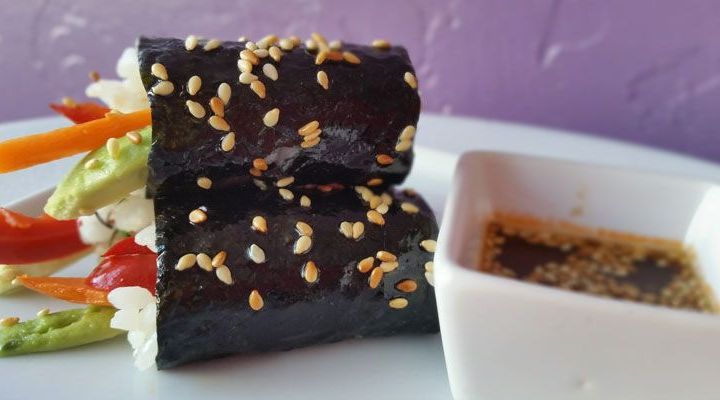 Korean-Style Sushi with Spring Vegetables, Sticky Rice and Sesame
Ingredients
Pork Mixture:
3/4 pound ground pork
6 shiitake mushrooms, finely diced
1 red bell pepper, finely diced
1 clove garlic, minced
1 1/2 Tablespoons ginger, peeled and minced
1 Tablespoon Thai sweet chili sauce
1 Tablespoon Asian fish sauce
1 8-ounce can whole water chestnuts, drained and diced
2 scallions, thinly sliced
2 Tablespoons cilantro, chopped
1 Tablespoon canola oil 2 teaspoons Asian sesame oil
2 Tablespoons oyster sauce
Wrap:
24 Boston lettuce leaves, washed and trimmed into 3 inch rounds
Hoisin sauce
1/4 cup peanuts, toasted and chopped
Methods/Steps
Prepare Pork Mixture: Place the ground pork into a medium bowl. Finely dice the shiitake mushrooms and red bell peppers. Mince the garlic and ginger and add all of the chopped ingredients into the pork. Add the chili sauce and fish sauce and mix well.
Chop Aromatics: Dice the water chestnuts and set aside. Thinly slice the scallions and chop the cilantro, set aside until ready to use.
Cook Pork Mixture: In a large skillet or wok, heat the canola oil. Add the pork mixture and stir-fry over high heat, breaking it up, until it is cooked through and starting to brown, about 8 minutes. Pour mixture into a strainer to remove excess oil from the pan. Return the pork to pan over low heat and stir in the water chestnuts, scallions, cilantro, sesame oil, oyster sauce and cilantro. Toss mixture and remove from heat.
Serve: Trim lettuce leaves into 3-inch rounds. Brush very lightly with hoisin. Spoon 1 Tablespoon of pork into the middle of each leaf. Garnish with peanuts and arrange on a serving platter.
Recipe created by Parties That Cook®
Serves/Makes
Serves 24