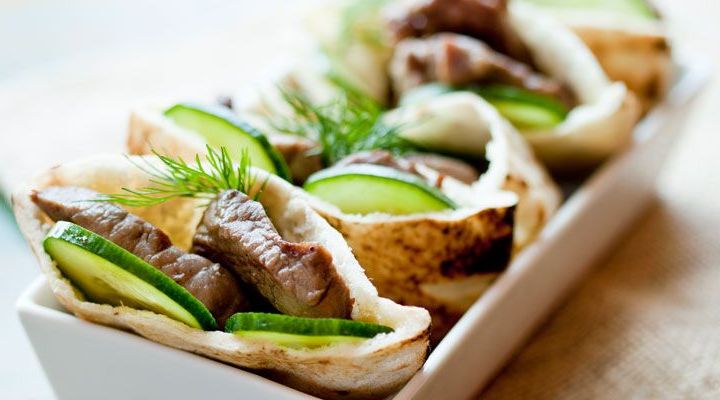 Lamb Gyros with Yogurt, Cucumber and Dill Sauce Recipe
Ingredients
Lamb:
3 pounds leg of lamb, boneless
24 short bamboo skewers, soaked in water for 30 minutes
1/4 cup olive oil
1 Tablespoon kosher salt
1/4 teaspoon ground pepper
Sauce:
1 cucumber, peeled, seeded, grated and drained (squeeze all the water out)
1 1/2 teaspoons kosher salt
1 1/4 cups Greek yogurt
2 cloves garlic, minced
1 Tablespoon white-wine vinegar
2 Tablespoons extra virgin olive oil
1 teaspoon lemon zest
1/4 cup fresh dill, finely chopped
1/8 teaspoon freshly ground pepper
8 large or 24 baby pita circles
Foil
Methods/Steps
Preheat broiler
Prepare the Lamb: Soak the bamboo skewers in water for 30 minutes. Trim the lamb of excess fat and silver skin. Cut into strips that are 4 inches in length and 1 inch in width. Transfer lamb to a bowl and add the olive oil, salt and pepper and mix. If serving as skewers, thread one 4-inch strip of lamb onto each skewer so that the tip of the skewer is not exposed. Cover exposed skewers with foil. Arrange skewers in a single layer on a sheet pan lined with foil. (If serving as on pita, you can skip skewering the meat).
Make Sauce: In a medium bowl, combine all ingredients and mix well. Let the sauce sit for 10 minutes for flavors to blend. Transfer to a small serving bowl and garnish with a sprig of dill.
Warm Pita (optional): Wrap pita tightly in foil and warm in a 300 oven for 10 minutes.
Broil Lamb: Place lamb 2-3 inches under the broiler and broil until just cooked through, about 2 minutes. Turn over and cook on the other side until the meat is brown, about 2 minutes. Divide skewers among plates. If serving as sandwiches, cut an opening in each piece of pita and fill with a few cubes of meat. and top with a dollop of the yogurt. Either way you decide to serve it, serve with a dollop of sauce.
Recipe created by Parties That Cook®
Serves/Makes
Makes 24 skewers or sandwiches